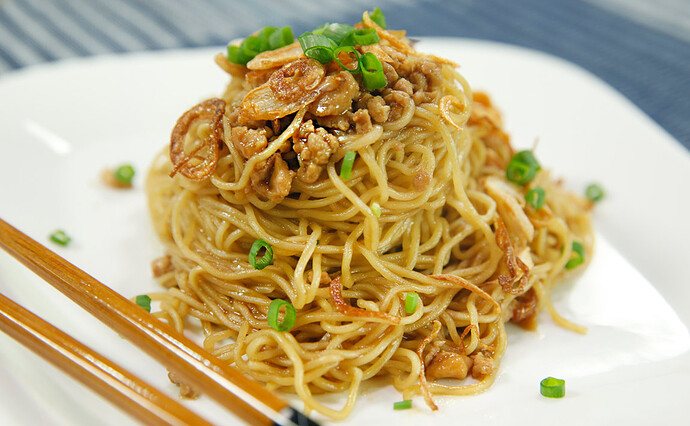 image credit:
friedchillies
INGREDIENTS
4 portions of Mee Kolok
Shallot Oil
6 shallots, thinly sliced
½ cup oil
Chicken Topping
1 tbsp. shallot oil
2 chopped garlic
1 chicken thigh, chopped
2 tsp. oyster sauce
½ tsp. dark soy sauce
¼ cup water
White pepper powder
Seasoning
Soy sauce
Ajinomoto
Salt
White pepper powder
Chopped spring onions
Crispy shallots
DIRECTION
Make shallot oil and crispy shallots first. Heat up oil in a pan and fry shallots until crispy and golden brown. Drain and set aside.
Using the same pan, heat 2 tbsp. of shallot oil and sauté chopped garlic until light golden in colour. Add in the rest of the chicken topping's ingredients, simmer for a bit and set aside.
Get the seasoning mix ready. In a bowl/plate, put ½ tsp. of soy sauce, a dash of ajinomoto, pinch of salt, white pepper powder and some chicken.
Cook the noodles. Get ready a pot of boiling water and a bowl of tap water. Blanch a single portion of noodles in hot water for about 20 seconds. Toss out noodles, dip it in tap water, swirl it around and toss again. Dip it in boiling water one final time and pour it into the seasoning mix.
Toss noodles in the seasoning mix until it is mixed well. Garnish with chicken topping, crispy shallots and spring onion.