MBSJ CONTINUES CRACKDOWN ON PRIVATELY-OWNED LAND TURNED INTO ILLEGAL DUMP SITE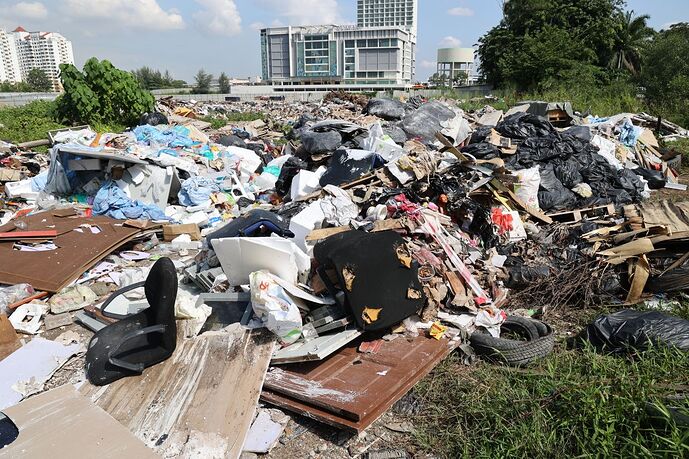 SUBANG Jaya City Council (MBSJ) is continuing its crackdown on privately-owned land that had been turned into an illegal rubbish dump site by taking action against its landowner and culprit.
The private land is about 2.8 to 3.2ha (7 to 8 acres) in size, and is located next to an industrial area near Taman Perindustrian Puchong Utama, Puchong.
According to the council, it had been used as a dump site for some time, with all sorts of rubbish such as domestic, construction and automotive waste left there.
"We are taking action against two parties ‒ the landowner for its negligence in taking care of its property and for not preventing unsanctioned activities from happening there, and the culprit or third party for illegally disposing rubbish at the site," said MBSJ Corporate and Strategic Management Department deputy director Azfarizal Abdul Rashid.
"The landowner was issued a fine of RM25,000 for the offence of carrying out or permitting earth works without the council's approval. The notice was issued under Section 70A (9) of the Street, Drainage and Building Act 1974 (Act 133).
"As for the culprit, our officers seized several roll-on, roll-off (roro) bins belonging to this third party," he said, adding that access to the site was also sealed off with large stone blocks.
Azfarizal said the operation on Tuesday (Oct 24) was not the first time such action was taken, as MBSJ had issued a similar notice and RM25,000 fine on the landowner last month (Sept 19), seized several equipment and also blocked access to the site.
"We understand that the landowner has taken court action and has to adhere to certain court procedures. The court issued a 14-day notice for the trespasser to vacate the land by Nov 7," he said.
"However, we are taking action today because there are signs of fresh rubbish dumping, which means that the landowner failed to take sufficient action to protect its property and there is still a third party carrying out the illegal activity."
If the dumping occurred on public land, Azfarizal said MBSJ could take action against the culprit and clean up the site under the MBSJ Garbage Collection, Cleaning and Disposal Bylaw 2007.
"However, since this land is privately owned, it is the landowner's responsibility to ensure their land is in good condition and that no illegal activities are carried out," he said.
"The enforcement action taken are what can be done under MBSJ's purview. If the incident recurs, we may have to refer to the Petaling Land and District Office to confiscate the land as a last resort."
The enforcement operation by MBSJ involved some officers 20 from MBSJ's Enforcement Department and Engineering Department as well as Petaling District and Land Office.
Source: thestar