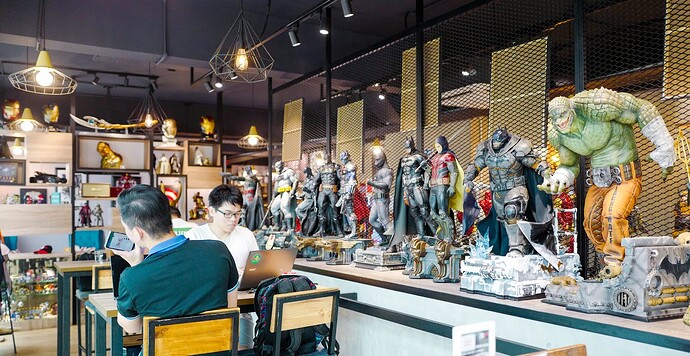 Image Source :
EAT DRINK KL
Location :
17, First Floor, Jalan Puteri 7/13A, Bandar Puteri Puchong, 47100 Selangor.
Operating Hour :
Monday - Thursday , 12PM - 10PM
Friday 12PM-12AM
Saturday 10AM - 12AM
Sunday 10AM-10PM
Introduction :
Step into the world of nostalgia and creativity at Mancave Cafe & Collectibles in Puchong. The unique establishment is not just a cafe; it's a haven for collectors and enthusiasts alike. Nestled in the heart of Puchong, the cafe offers a captivating blend of delectable food, aromatic coffee, and a treasure trove of collectibles that will transport you back in time.
What to Expect:
At Mancave Cafe & Collectibles, expect a one-of-a-kind experience where culinary delights meet a curated collection of memorabilia and vintage items. Indulge in a variety of mouthwatering dishes while surrounded by an array of collectibles, from classic movie posters to rare vinyl records. The cafe prides itself on offering a cozy and welcoming atmosphere, perfect for enjoying a cup of coffee while immersing yourself in a world of nostalgia.
Conclusion:
In conclusion, Mancave Cafe & Collectibles Puchong is a hidden gem that offers much more than just a meal. With its unique concept, delectable food, and captivating array of collectibles, the cafe promises an experience that transcends time and taste. Whether you're a collector, a food enthusiast, or simply looking for a cozy spot to unwind, Mancave Cafe & Collectibles welcomes you to a journey where nostalgia and creativity intertwine.