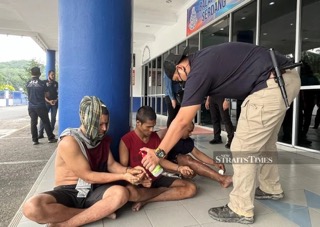 BANDAR BAHARU: One of the escapees with bruises on his face claimed that he was forced to flee the temporary Relau immigration depot.
He claimed that he did not want to leave the depot when the riot started and was punched by his countrymen for his defiance.
Apart from the bruises on his face, he also had cuts on his head which he sustained when he fell trying to flee in the dark.
The man also claimed that he was a United Nations High Commissioner for Refugees (UNHCR) card holder and alleged those without the card were the ones who had caused the chaos.
"The number of those without the UNHCR cards are more than those who had one. If we refused to flee, we would be beaten up and inflicted with injuries."
These were among the claims given when the escapee and two others who were detained by the police and taken to the Bandar Baharu district police before they were sent to the immigration depot for the next course of action.
Another escapee had leg injuries when trying to flee and was said to be hiding at a durian orchard with several other before they were arrested by the police.
It was learnt the public and villagers also played their roles in providing information leading to the arrest of the escapees.
Source: New Straits Times