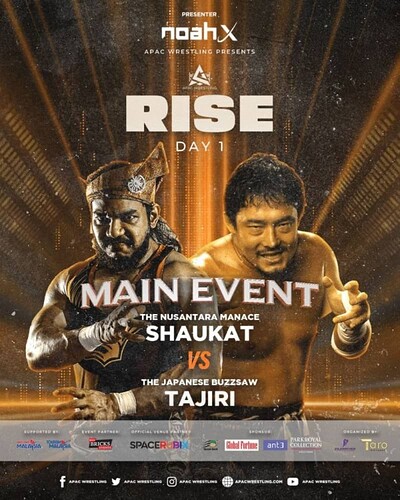 KUALA LUMPUR, Dec 7 — Wrestling fans in Malaysia can rejoice as the arena is set and energy is brewing for the two-day wrestling showcase happening this December 10 and 11.
The Apac Wrestling Rise which will be held at Spacerubix, Puchong, will see a total of 16 pro-wrestlers, both local and international including former pro-wrestling champions, duking it out on the ring this weekend.
Amongst the nine international wrestling superstars from the Asia Pacific region includes former WWE cruiserweight champion, Tajiri and former WWE and NXT superstar Steph De Lander.
All Elite Wrestling's (AEW) Maki Itoh will also be there as well as Japanese wrestling superstar Yuki Kamifuku.
In the local corner, Apac Wrestling founder and local wrestling superstar, Ayez Shaukat-Fonseka Farid along with Malaysia's first hijab-wearing wrestling champion, Nor 'Phoenix' Diana will also be showcasing their skills in the ring.

Fans can expect to see Shaukat going head to head against Tajiri to settle some old scores while Diana will be taking on Kamifuku and Itoh will be facing De Landre in the showcase.
Tajiri, who met Shaukat in the ring previously is thrilled to be able to come to Malaysia and said the local pro-wrestling scene was full of possibilities.
"Four years ago, he and I fought in a singles match and luckily I won. I think he will desperately confront me this time to get his revenge.
"However, as a fellow Asian comrade, I came to Malaysia because I wanted to build a friendly relationship with him, whether I win or lose this time.
"I think he and I will be very happy if this match leads to a deeper friendship with him, and I think everyone will be happy too," The Japanese Buzzsaw said.
For Shaukat, aside from making Rise as Apac Wrestling's year-ender event, it is also one of their efforts to make Malaysia the hub of pro-wrestling in South-East Asia (SEA).
He added that the local wrestling scene could not grow by depending entirely on underground events only.
"Because for me, I do believe in order to grow, we need to go big, because if we were to continue with underground style, we will forever be stuck at underground style.
"So, we want to change the mindset of audiences in Malaysia and SEA to grow with us all," Shaukat said.
However, to set up a 300-peron show with international acts in less than two months is not an easy feat but Shaukat and his small team are determined to see it through.
For the budding pro-wrestling scene in Malaysia, garnering sponsors have proved to be the main challenge.
"One of the biggest aspects in preparing for the show is finding sponsors and when it comes to sports like this, it's new and it's taboo in a way. People still think it's violent, while some think it's a small market.
"But wrestling is a huge market. In Malaysia itself, according to Astro, the WWE network was the second most-watched channel on Astro.
"It shows that there are a lot of fans here but I'm not sure why some corporations still think wrestling is not a good avenue to sponsor. If a lot of corporations can sponsor MMA events like One FC and others, why not wrestling?" Shaukat said.
He added that pro-wrestling is less violence as it's just a performance and fits for all ages.
Shaukat and his team are grateful to Tourism Malaysia who had seen the potential and had agreed to be their sponsors.
Amongst their other sponsors and partners includes local production house NoahX and Taro Pictures.
The Rise event will also have its own arena and ring setup inside one of Spacerubix's halls along with some special set pieces to further enhance the audience's experience.
Source : Malay Mail