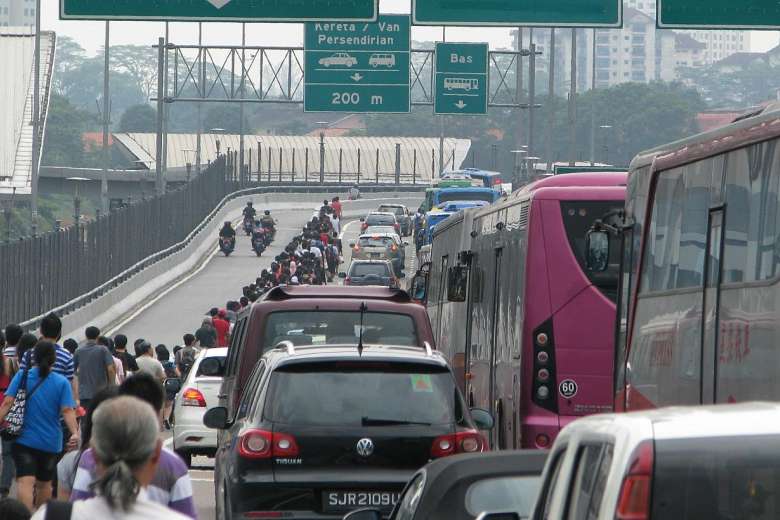 Image Sources: The Straits Times
News about the reopening of the Malaysia and Singapore border beginning Aug 10 has been received with sighs of relief from citizens of both countries.
However, many have expressed concern about the imposition of a three-month stay in Singapore during each trip for those holding long-term immigration passes for business and work.
The people are also hoping that both sides will implement clear and practical standard operating procedure (SOP) to avoid issues at the two border crossings of the Johor Causeway and Second Link.
Johor Indian Business Association (Jiba) president P. Sivakumar said the reopening of the border was good news as not only would it allow local businesses to survive but also provide employment security for Malaysians working in Singapore.
"Local businesses, especially those in Johor Baru, rely heavily on Singaporean customers to thrive and many are now on the verge of closing down due to the border closure.
"The reopening of the borders is very much welcomed but it must be done carefully and people need to strictly abide by the SOP to ensure their own safety, " he said in an interview.
However, Sivakumar said the requirement where Malaysians who worked in Singapore were only allowed to enter the country for a short-term home leave only after three months of working in the island republic was "unnecessary".
"Mobility is important and such a requirement should not be included in the reopening.
"The focus should instead be on people adhering to the SOP, including contact tracing, " he added.
The many Malaysians currently in Singapore for work were already finding it difficult to cope with the cost of living in the island republic, he said.
"The reopening of the borders would not bring much difference to those working in Singapore if they are only allowed a short visit and then have to be stranded again for three months, " he said.
Information References: TheStar