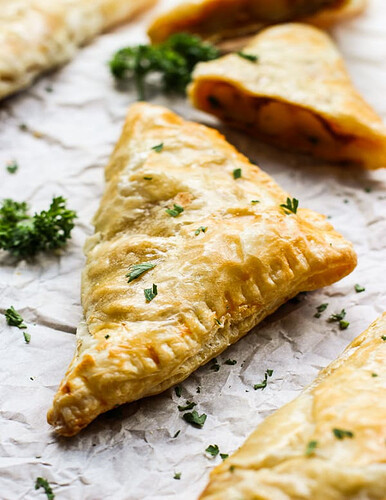 Image credit :
joyousapron
Ingredients
2 Pepperidge Farm puff pastry sheets
3-4 red potatoes 9-10oz
1-2 tbsp chopped shallots
1/2 cup small pieces of diced chicken optional
1-2 tbsp Malaysian curry paste
1/2 tsp vegetable oil
1/2 cup water
3 tbsp coconut milk
1/2 tsp sugar or to taste
salt to taste
1 egg
Direction
In a pot, add vegetable oil and chopped shallots, cook for 30 seconds, then add potato, chicken and 1 tbsp of curry paste. Cook for 30 seconds.
Add water and coconut milk to pot. Once mixture comes to a boil and chicken is cooked, taste mixture and add more curry paste if needed. Also add salt and sugar to taste.
Cook until potatoes are tender and cook down the liquid until it looks more like a paste. Turn off heat and let it cool for 30 minutes.
While waiting for filling to cool, pre-heat oven to 400 degrees F and beat up one egg.
Cut each puff pastry sheet into 4 squares
Once filling is cool, add filling to each puff pastry sheet, creating a triangle on one side of the square pastry sheet (see picture). Then brush egg mixture to all sides of the square.
Fold each square into a triangle and using fingers, gentle press sides to seal. Then using a fork, press to further seal pastry.
Bring curry puff to baking sheet lined with parchment paper, and brush egg mixture onto the top surface of each pastry. If not using parchment paper, grease the bottom of each puff pastry to prevent it from sticking to pan.
Bake in the oven for 15-18 minutes or until top is golden brown.
Remove and cool for 10 minutes.
Serve and enjoy!