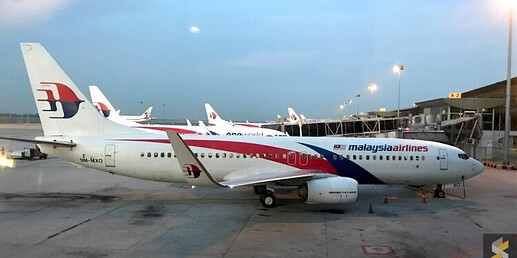 Malaysia Airlines has announced that it will be operating its first passenger flight service using Sustainable Aviation Fuel (SAF) in conjunction with World Environment Day. Their first commercial flight with sustainable fuel will be a return flight using a Boeing 737-800 between Kuala Lumpur and Singapore scheduled for this coming Sunday, 5th June.
According to the flag carrier, these flights reaffirm the airline's commitment to a Sustainable Tomorrow and mark significant progress toward achieving a clear, more viable fuel source for regular flights by 2025. Malaysia Airlines is inviting guests to travel on the SAF-powered flights on 5th June 2022 as listed below:
MH603 Kuala Lumpur (KUL) to Singapore (SIN) – Departing 12:25, Arriving 13:30
MH606 Singapore (SIN) to Kuala Lumpur (KUL) – Departing 14:40, Arriving 15:40
Passengers can enjoy 15% off for these SAF-powered flights by entering the promo code SAF2022. Guests are encouraged to book as soon as possible while the seats are still available.
At the time of writing, the cheapest fare for MH603 on 5th June is RM881 (Economy Lite), while the return flight (MH606), is priced from RM517 (Economy Lite). When we tried to book, the return flight is not available as a return flight option.
Interestingly, we are able to find a one-way ticket for MH606 from Singapore to Kuala Lumpur which is priced from SGD 263.30 (about RM841.11).
In December last year, Malaysia Airlines operated its inaugural flight with SAF on an Airbus A330-200 from Amsterdam to Kuala Lumpur. The flight was filled with 77 tonnes (77,300kg) of fuel with a 38% blend mixture of SAF, which consists of 100% renewable waste and residue raw materials such as used cooking oil and animal fat waste. The fuel is sourced from Neste, the world's leading producer of renewable diesel and SAF.
Neste MY's SAF in its neat form is said to be able to cut down greenhouse gas (GHG) emissions by up to 80% compared to fossil jet fuel use. It is also said to be free of sulphur, oxygen and aromatics. On top of that, it also has outstanding cold-weather performance with a freeze point of -47°C or lower. The SAF is said to be fully compatible with existing jet engines and infrastructure with no additional investments or modifications required.
Source: SoyaCincau