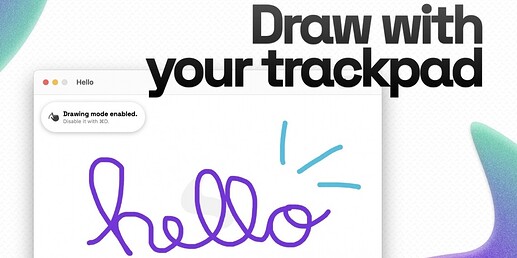 It's quite well known that the trackpad for Macs are so good, some people don't feel the need to get a separate mouse. Heck, I tend to prefer using the trackpad for a majority of my MacBook use.
Magic, a macOS app created by young developer João Gabriel (one of the winners of Apple's WWDC Swift Student Challenge), focuses on letting users draw on just their trackpads. It's a simple app which has a handful of options—drawing, colours, brush size, opacity, background styles, scale, and "clear" drawing.
Once you "start drawing", you need to start treating your entire trackpad as your canvas. The location of the trackpad that you touch will equal to the location of your doodle—kind of like how you would treat doodling using a Pen. You're also able to change the thickness of the "brush" by pressing harder/lighter on the trackpad.
To stop drawing, press Command + D, or else you won't be able to get out of drawing mode. The minimal features and something that just lets you doodle and nothing else gives it that nostalgic feeling that is familiar to Microsoft's Paint—but it's made to be used with your Mac's trackpad, which really shows off the trackpad's ability to make more precise lines… you just have to get used to it first.
"Magic allows you to make extraordinary drawings using only your Mac's trackpad—it's one of a kind. By making use of Mac technology, Magic is the nicest and coolest way to express yourself using only touch and creativity," wrote Magic.
According to 9to5Mac, the developer said he's already working on new features for the app—including the ability to add and rearrange multiple layers in a single project. This means that users can work on more complex drawings in the near future.
You can download Magic on the App Store for free. It requires a computer running macOS Big Sur, as well as a trackpad.
Source: SoyaCincau