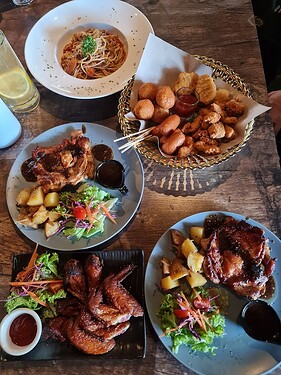 Image Source:
Google Review
Location:
No.1-G, Jalan Puteri 1/7, Bandar Puteri Puchong, 47100 Puchong, Selangor
Operating Hour:
Mon-Sun, 2pm-1am
Introduction:
Step into the sophisticated world of M Lounge @ Bandar Puteri, a refined establishment that offers a blend of culinary excellence and elegant ambiance. Located in the heart of Bandar Puteri, the lounge is a destination for those seeking an elevated dining experience that encompasses both taste and luxury.
What to Expect:
At M Lounge, expect to be treated to a culinary journey that embraces the finest ingredients and expert craftsmanship. The menu showcases a selection of exquisite dishes that cater to a range of palates. From innovative appetisers to sumptuous main courses, every dish is a testament to their commitment to delivering exceptional flavours and presentation. With an upscale atmosphere and attentive service, you can anticipate a dining experience that exudes sophistication.
Conclusion:
In conclusion, M Lounge @ Bandar Puteri sets the stage for a refined dining affair that goes beyond the ordinary. With its dedication to culinary artistry, upscale ambiance, and impeccable service, the lounge ensures that every guest is treated to a memorable experience.