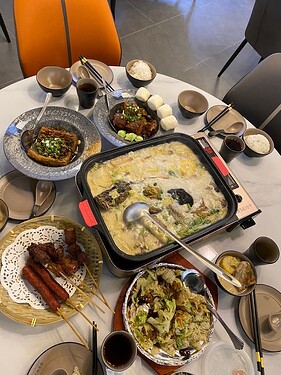 Image Source: Google Review
Location:
31, Jalan Puteri 4/1, Bandar Puteri, 47100 Puchong, Selangor
Operating Hour:
Monday - Sunday
12:00pm–3:00pm, 5:00pm–10:00pm
Introduction:
Welcome to Luckypot Puchong, where culinary delight meets communal dining. Step into a world of aromatic broths, fresh ingredients, and shared moments. Nestled in the heart of Puchong, our restaurant offers an authentic hot pot experience that is as much about the camaraderie around the table as it is about the delicious flavors.
What to Expect:
At Luckypot, expect a gastronomic adventure where you become the chef. Choose from an array of fresh meats, crisp vegetables, and savory broths, creating your own personalized hot pot masterpiece. As the ingredients simmer in the bubbling pot, anticipate the tantalizing aromas and the joy of dipping your creations into an assortment of delectable sauces. With a friendly and welcoming ambiance, Luckypot guarantees a cozy atmosphere where conversations flow as freely as the broth.
Conclusion:
In conclusion, Luckypot Puchong offers more than just a meal; it's an experience to remember. Expect not only a feast for your taste buds but also a feast for your senses as you engage in the age-old tradition of communal dining. It's a place where friends and family come together, laughter echoes, and memories are made.