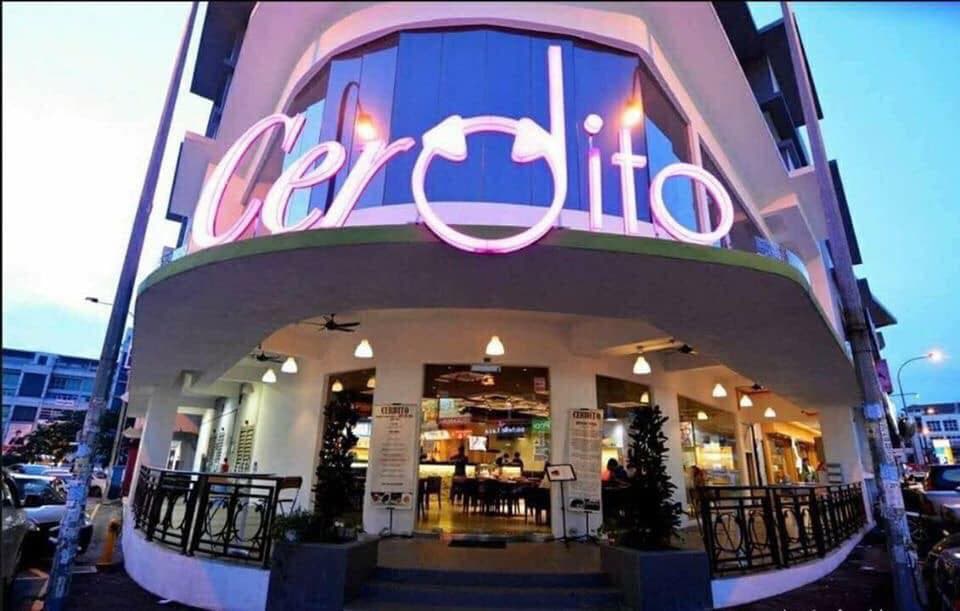 Image Source :
Facebook Cerdito Restaurant
Location:
G-11, Kompleks Kenari, Jalan Kenari 19a, Bandar Puchong Jaya, 47100 Puchong, Selangor
Operating Hours:
Monday - Sunday : Tue – Thur 12:00 PM - 10:00 PM ; Fri - Sun 12:00 PM - 11:00 PM (Closed on Monday)
Introduction :
Cerdito Restaurant is a charming eatery located in Puchong, Selangor, that specializes in Spanish cuisine. The restaurant's menu offers a wide range of traditional Spanish dishes, including tapas, paella and roasted meats. The decoration is rustic and inviting with warm lighting, wooden accents, and comfortable seating. The ambience is relaxed and welcoming which making it a great spot for a casual lunch or dinner with friends and family. With its high-quality food and attentive service, Cerdito Restaurant has become a popular destination for those looking to experience authentic Spanish cuisine. Whether you're a fan of classic Spanish dishes or just looking to try something new, Cerdito Restaurant is definitely worth a visit.
Location and Accessibility :
Cerdito Restaurant is located in Puchong, Selangor, at Bandar Puchong Jaya, which is a well-known commercial area in the city. The restaurant is easily accessible by car or public transportation with ample parking available nearby. The area is well-connected, making it a convenient location for both locals and tourists to visit. Additionally, the restaurant's central location provides easy access to nearby attractions and amenities, making it an ideal spot for a quick meal or a leisurely dining experience.
Operating Hours :
Cerdito Restaurant is open from Tuesday to Sunday, with different operating hours on different days. From Tuesday to Thursday, the restaurant operates from 12:00 PM to 10:00 PM, while on Friday to Sunday, it is open from 12:00 PM to 11:00 PM. Cerdito Restaurant is closed on Mondays. These operating hours provide customers with ample time to enjoy lunch, dinner or a late-night snack. With its convenient operating hours, customers can plan their visit to Cerdito Restaurant according to their schedule and enjoy authentic Spanish cuisine at their leisure.
What to expect :
As a customer can expect a delightful dining experience at Cerdito Restaurant. Customers rave about the restaurant's authentic Spanish cuisine, including the flavorful paella and succulent roasted meats. The tapas dishes are also highly recommended with a variety of options to choose from. Customers also appreciate the cozy and inviting ambience of the restaurant which creates a relaxed and comfortable ambience for enjoying a meal. The staff are friendly and attentive, providing excellent service and ensuring that customers are well taken care of.
Conclusion :
In conclusion, Cerdito Restaurant in Puchong is a charming eatery that offers authentic Spanish cuisine in a cozy and inviting ambience. With a wide range of traditional dishes, attentive service, and a warm ambience, this restaurant has become a popular destination for locals and tourists alike. Whether you're in the mood for a leisurely lunch or a romantic dinner, Cerdito Restaurant is definitely worth a visit for those looking to indulge in some delicious Spanish food.