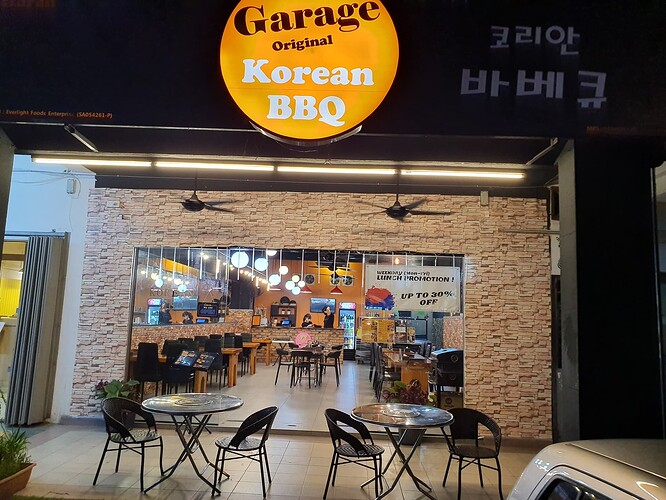 Image Source :
Facebook Garage KBBQ Puchong
Location:
51G, Jalan Kenari 17f, Bandar Puchong Jaya, 47100 Puchong, Selangor
Operating Hours:
Monday || Wednesday - Sunday : 11:30am - 10:00pm
Tuesday : Closed
Introduction :
Garage Korean BBQ Puchong is a popular dining destination for Korean barbecue enthusiasts. Located in Puchong, Malaysia, this restaurant offers an authentic and immersive Korean dining experience. Step into a modern and vibrant setting where the aroma of sizzling meat fills the air, and the sound of laughter and conversation creates a lively atmosphere. Garage Korean BBQ Puchong is known for its wide selection of premium meats, fresh ingredients, and traditional Korean side dishes that complement the barbecue experience.
Location and Accessibility :
Garage Korean BBQ Puchong is conveniently located at 51G, Jalan Kenari 17f, in the bustling neighborhood of Bandar Puchong Jaya, Selangor. The restaurant enjoys a prime location with easy accessibility for both locals and visitors. Whether you're driving or using public transportation, reaching Garage Korean BBQ Puchong is a breeze. For those driving, there is ample parking available nearby. If you prefer public transportation, the restaurant is easily accessible via various bus routes and is in close proximity to Puchong Jaya LRT station
Operating Hours :
Garage Korean BBQ Puchong operates from Monday to Sunday, with the exception of Tuesdays when it is closed. The restaurant welcomes diners from 11:30am to 10:00pm, allowing guests to indulge in their delectable Korean BBQ offerings throughout the day.
What to expect :
Customers visiting Garage Korean BBQ Puchong can expect a delightful culinary journey filled with authentic Korean flavors and a memorable dining experience. As a popular Korean BBQ restaurant, customers can look forward to a wide selection of high-quality marinated meats, such as beef, pork, and chicken, which they can grill to perfection at their table. Accompanying the BBQ feast are an array of traditional side dishes, including kimchi, pickled vegetables, and savory sauces, enhancing the overall dining experience. The restaurant also offers a variety of other Korean dishes, such as bibimbap, spicy stews, and hotpots, providing options for customers with different preferences. With a cozy and inviting ambience, friendly staff, and a commitment to serving delicious and authentic Korean cuisine, Garage Korean BBQ Puchong aims to exceed customers' expectations and leave them satisfied with a taste of Korea.
Conclusion :
In short, Garage Korean BBQ Puchong is a popular destination for Korean food enthusiasts, offering a delightful dining experience with authentic flavors and a wide selection of BBQ options. From marinated meats to traditional side dishes, customers can indulge in a memorable culinary journey.