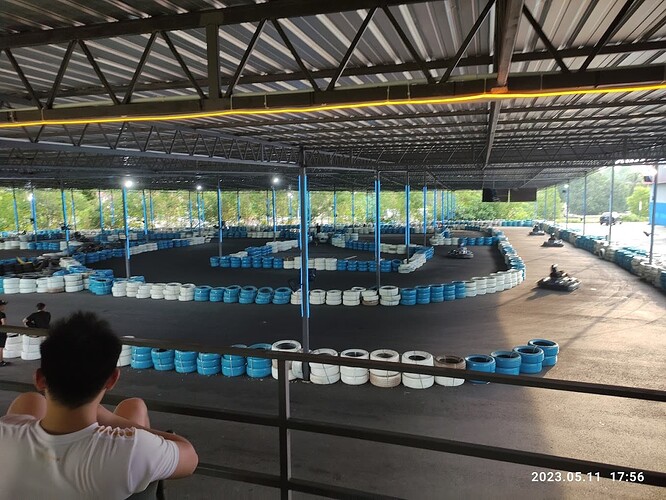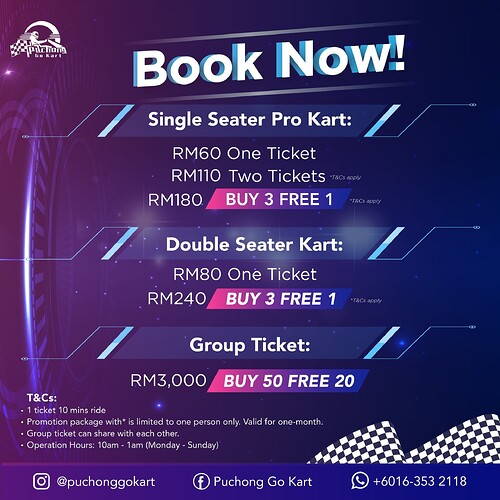 Image Source :
Facebook Puchong Go Kart
Location:
Jalan PU 1/19A in Puchong, Malaysia
Operating Hours:
Monday - Sunday : 10:00am - 1:00am
Introduction :
Puchong Go Kart is an exciting destination for all go-kart enthusiasts and thrill-seekers. Located in Puchong, Malaysia, this go-kart facility offers an exhilarating experience for individuals of all ages. Whether you're a seasoned racer or a beginner looking for some adrenaline-pumping fun, Puchong Go Kart provides a state-of-the-art track and top-of-the-line go-karts to ensure an unforgettable racing experience. With a focus on safety and professionalism, the friendly staff at Puchong Go Kart ensures that all visitors have a safe and enjoyable time on the track. So, gather your friends or family, buckle up, and get ready to unleash your inner speed demon at Puchong Go Kart.
Location and Accessibility :
Puchong Go Kart is conveniently located on Jalan PU 1/19A in Puchong, Malaysia. Situated in a strategic location, it offers easy accessibility for both local residents and visitors. Whether you're arriving by car, public transportation, or ride-hailing services, reaching Puchong Go Kart is a breeze. The facility is well-connected to major roads and highways, making it easily accessible from various parts of Puchong and neighboring areas. Ample parking spaces are available for those arriving by car, ensuring a hassle-free experience.
Operating Hours :
Puchong Go Kart operates from Monday to Sunday, providing thrilling go-karting experiences for enthusiasts and thrill-seekers. The facility is open from 10:00am until 1:00am, offering extended operating hours to cater to different schedules and preferences.
What to expect :
Customers visiting Puchong Go Kart can expect a thrilling and exhilarating experience filled with adrenaline and excitement. As a popular go-karting destination, customers can anticipate well-maintained and high-quality go-karts that provide a smooth and enjoyable ride. The track is designed to offer challenging twists, turns, and straights, allowing drivers to showcase their skills and have a competitive racing experience. Safety is a top priority at Puchong Go Kart, with professional staff members available to provide safety instructions, guidance, and ensure the proper use of safety equipment. Additionally, customers can look forward to a friendly and accommodating ambience, where they can enjoy a memorable time with friends, family, or colleagues. Whether it's a casual outing, team-building event, or birthday celebration, Puchong Go Kart aims to deliver a fun and unforgettable experience for all customers.
Conclusion :
In conclusion, Puchong Go Kart is a premier destination for go-karting enthusiasts and thrill-seekers in Puchong, Malaysia. With its convenient location, extensive operating hours, and exciting track, the facility offers an adrenaline-pumping experience for visitors of all ages.