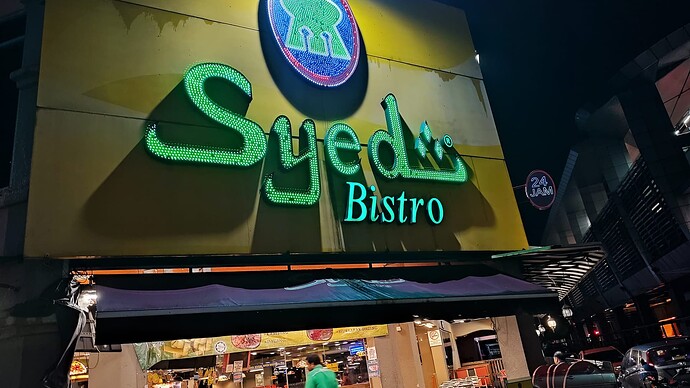 Image Source :
Facebook Syed Bistro
Location:
2 Jalan Perdana 3/3, Puchong 47100 Malaysia
Operating Hours:
Monday - Sunday : Always Open
Introduction :
Syed Bistro is a popular restaurant in Puchong, Selangor, known for its delectable menu and warm hospitality. With its inviting ambiance and cozy setting, Syed Bistro offers a comfortable dining experience for guests. Whether you're a fan of local Malaysian cuisine or looking to explore international flavors, Syed Bistro has something to satisfy every palate. From mouthwatering appetizers and flavorful main courses to delicious desserts, the restaurant offers a diverse range of dishes prepared with fresh ingredients and expert culinary skills.
Location and Accessibility :
Syed Bistro is conveniently located at 2 Jalan Perdana 3/3 in Puchong, Malaysia. Situated in a bustling neighborhood, the restaurant is easily accessible for both residents and visitors. Whether you're traveling by car or public transportation, reaching Syed Bistro is a breeze. The restaurant is well-connected to major roads and highways, making it a convenient stop for those exploring Puchong. With ample parking facilities available nearby, guests can enjoy a hassle-free dining experience at Syed Bistro.
Operating Hours :
Syed Bistro is proud to be an establishment that caters to its customers' needs with a commitment to availability. We understand that cravings can strike at any time, so we are pleased to announce that Syed Bistro is always open, seven days a week. Whether it's a hearty breakfast to start your day, a satisfying lunch, or a late-night feast, our doors are ready to welcome you. Our dedicated team is on hand to serve you delicious meals and delightful beverages whenever you desire.
What to expect :
Customers can expect a convenient and flexible dining experience at Syed Bistro with its "Always Open" operating hours. Whether they're early birds looking for a hearty breakfast, lunchtime diners craving a delicious meal, or night owls seeking a late-night snack, Syed Bistro is ready to serve them. The availability of round-the-clock service ensures that customers can satisfy their cravings at any time, making it a go-to destination for those with busy schedules or unpredictable appetites. With a diverse menu offering a range of delectable dishes and a welcoming ambiance, customers can expect a satisfying and enjoyable dining experience whenever they choose to visit Syed Bistro.
Conclusion :
With its convenient "Always Open" operating hours, Syed Bistro provides customers with the flexibility to enjoy delicious meals at any time of the day. Whether it's breakfast, lunch, or a late-night craving, this establishment is ready to serve customers with a diverse menu and a welcoming ambience. The round-the-clock availability ensures that customers never have to worry about missing out on a satisfying dining experience. Syed Bistro is the perfect destination for those seeking a reliable and flexible dining option in Puchong.