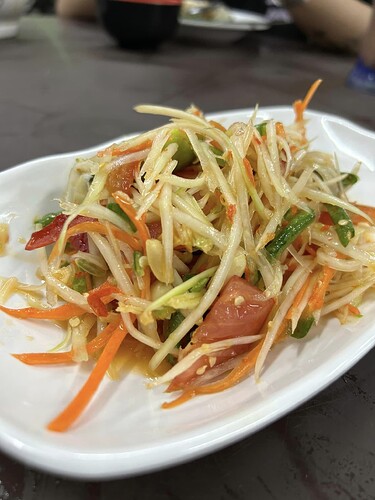 Image Source :
Facebook Krua Thai
Location:
36 Jalan Bandar 13 Bandar Puchong Jaya, Puchong 47160 Malaysia
Operating Hours:
Monday - Friday : 10:30AM - 3:30PM & 5;30PM - 10:00PM
Saturday - Sunday : 10:00 AM - 10:00 PM
Introduction :
Krua Thai is a delightful Thai restaurant located in Puchong, Selangor. With its authentic flavors, warm ambience, and attentive service, it offers a memorable dining experience for Thai food enthusiasts and those seeking to explore the vibrant flavors of Thailand. Whether you're craving aromatic curries, fragrant stir-fries, or traditional Thai street food favorites, Krua Thai has a diverse menu that caters to all tastes.
Location and Accessibility :
Krua Thai is conveniently located at 36 Jalan Bandar 13 in Bandar Puchong Jaya, Malaysia. The restaurant is easily accessible, making it a convenient dining destination for both locals and visitors. Whether you're traveling by car or using public transportation, Krua Thai is well-situated in the heart of Puchong, ensuring easy accessibility for all.
Operating Hours :
Krua Thai welcomes guests throughout the week with its flexible operating hours. From Monday to Friday, the restaurant serves lunch from 10:30 AM to 3:30 PM and then reopens for dinner from 5:30 PM until 10:00 PM. On weekends, Krua Thai opens its doors a bit earlier, starting at 10:00 AM, and continues to serve delicious Thai cuisine until 10:00 PM.
What to expect :
Customers visiting Krua Thai can expect a delightful dining experience with authentic Thai cuisine and warm hospitality. They can look forward to a menu filled with a variety of traditional Thai dishes prepared with fresh ingredients and flavors that capture the essence of Thailand's culinary heritage. From fragrant curries and stir-fried delights to aromatic soups and traditional Thai desserts, customers can expect a range of mouthwatering options to tantalize their taste buds.
Conclusion :
In conclusion, Krua Thai offers a taste of Thailand in the heart of Puchong. With its convenient location, extensive operating hours, and authentic Thai cuisine, it has become a go-to destination for those seeking a flavorful Thai dining experience. Whether you're craving classic dishes or exploring new flavors, Krua Thai is dedicated to providing customers with delicious food, friendly service, and a warm and inviting ambience