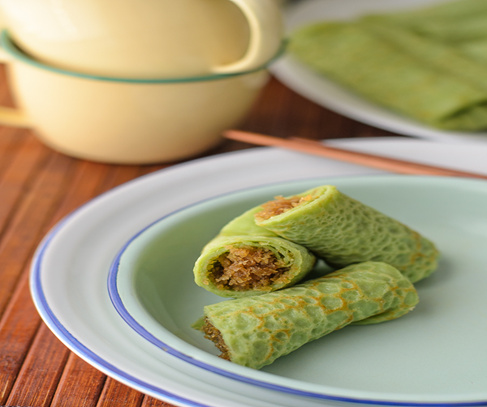 Image credit : mykeuken.com
INGREDIENTS
( A) Pandan juice
40g pandan leaves
1/4 cup water
( B) Crêpe Batter
120g plain flour
1 (70g size egg)
300 ml coconut milk
1g salt
( C) Extracted pandan juice (above)
1-2 tablespoon extra water (if the batter is too thick)
green food colouring (optional)
( D) Sweet coconut Filling
100g dark brown sugar
1/2 cup water
1 pandan leaf washed and knotted
1 1/2 cup desiccated coconut
1 teaspoon corn flour
2 teaspoon water
DIRECTION
Heat up saucepan, and add dark brown sugar, water and pandan leaf, and cook on medium heat until the syrup thicken slightly (approximately 5 minutes…)

Add desiccated coconut and stir to mix well.

Add cornflour mix with water to the sweet coconut.

Set aside to cool.

Put pandan leaves in food processors/ blender.

Add water and blend.

Squeeze out juice as much as you can.

Add plain flour to mixing bowl.

Add salt.

Add pandan juice.

Add egg.

Whisk in coconut milk into a smooth batter.

Add green food colouring (optional).

Heat up frying pan.

Spray oil on the surface.

Ladle about 1/8 cup of batter onto the frying pan.

Give a swirl so a thin pancake is formed.

The crêpe is ready when the edges crisped and curled up.

Follow the video link above or click the photo below …to see the how to wrap and fold the sweet coconut crêpe.