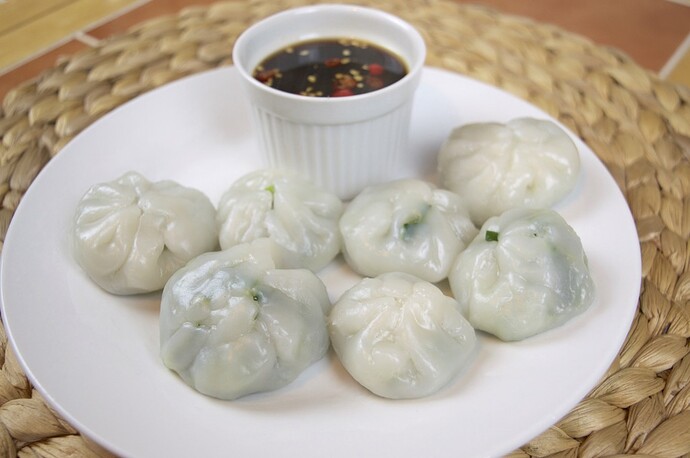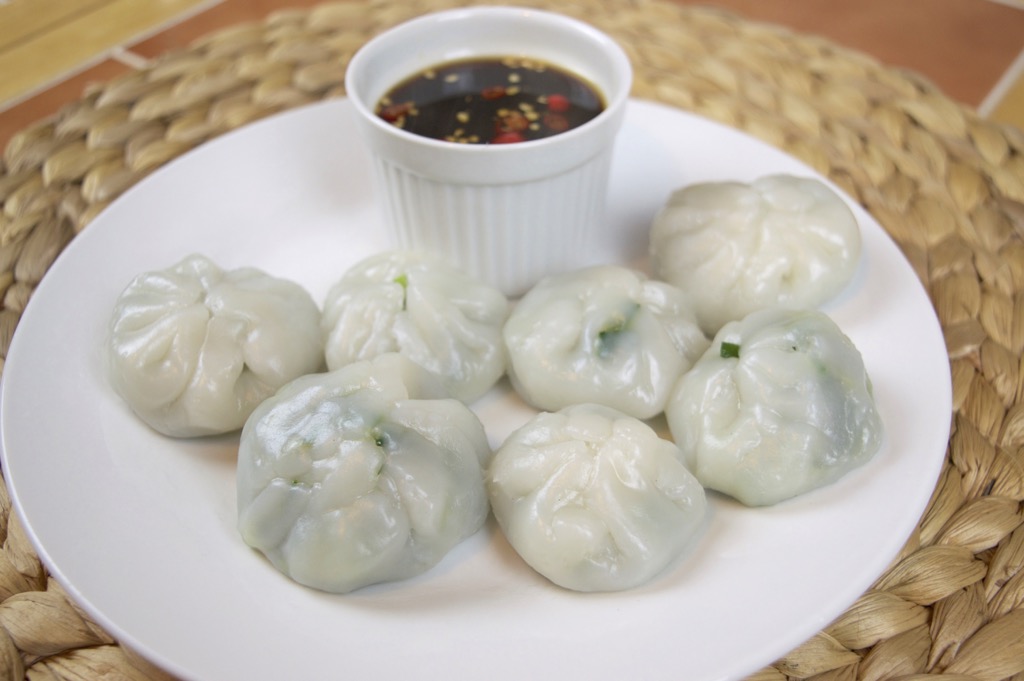 Image credit:
Siamsizzles
Yield: 50 servings for pieces
Preparation:1 hour
Cooking: 15 minutes
INGREDIENTS
Chive Dumpling Filling:
• 500grams Chinese chives ku chai, diced
• 50grams garlic peeled and finely minced
• 50grams shallots peeled and finely minced
• 100grams dried shrimps soaked in water, drained and coarsely chopped
• 4tbsp vegetable oil
• 5.69grams salt
• 5.69grams sugar
• 5.69grams ground white pepper
• 5.69grams alkaline water
Chive Dumpling Skin:
• 350grams wheat starch tang mein flour, sifted
• 300grams tapioca flour sifted
• 22.76grams sugar
• 11.39grams salt
• 1200ml water boiling water
• 45grams vegetable oil 7 tbsp
Garnish:
• 11.38grams fried shallots
• 11.38grams spring onions chopped
• 5.69grams red chilli chopped
DIRECTION
Start by preparing the filling. Wash thoroughly the fresh Chinese chives and drained welling a colander. Trim off the white part at the bottom of chives. Then cut the chives into 1/2 cm long pieces. Then set aside.
Next, peel and chop garlic and shallots.
Soak, drain and chop dried shrimps.
Heat a wok with vegetable oil over medium-high heat. Add chopped garlic & shallots and sauté till fragrant.
Then, add in chopped dried shrimps and stir-fry until dried shrimps turns golden brown and fragrant. Then remove from wok.
Toss the fried shallots and garlic in the fresh cut chinese chives.
Then add in a tsp of alkaline water. This will help keep the chives green. Be sure they are well mixed. Set aside while we make the skin dough.
Make Chive Dumplings Skin :
To make the skin, first bring a pot of water to a boil.
In a large mixing bowl, add wheat starch, tapioca flour, salt and sugar. Whisk to combine well.
Quickly add in the boiling water and using a dough hook, stir until the flour mixture comes together.
Then, add in vegetable oil and continue to knead until a smooth dough is formed. Remove from mixer.
Briefly knead the dough with your hand for the last time.
Divide the finished dough into smaller portions and set aside to rest for about 15 minutes. And we're ready to make the chive dumplings!
First, lightly dust the working surface and rolling pin with some flour. Then roll out the dough into a thin layer.
Using a cutter, cut into round wrappers.
Continue to roll out balance of dough and cut into round wrappers. And we're ready to wrap the dumplings!
Make Chive Drumplings :
To make the dumplings, first spoon 1 heaping tbsp chive filling into the centre of wrapper.
Pinch the centre of wrapper tightly to seal.
Next, pinch the lower half (right side) of dumpling to seal.
Then, bring the upper half (right side) of dumpling forward and press to seal.
Next, pinch the lower half (left side) of chive dumpling to seal.
Then, bring the upper half (left side) of chive dumpling forward and press to seal.
Press together both sides of chive dumpling to wrapped it up tightly.
Continue to do the same for the rest of the round wrappers. And we're done!
Lightly oiled a steaming tray.
Arrange the pleated chive dumplings on the steaming tray.
Place on prepared steamer.
Steam for 15 minutes or until the skin turns translucent.
Remove from steamer onto a wire rack. Brush with some garlic oil and leave to cool a while before transferring to a serving plate.
These chive dumplings are best eaten fresh served with sweet chilli sauce. So Enjoy!
If its your first time making dumplings, use less filling to make the folding easier.
The skin or crust of the ku chai kuih can either be transparent or white. If white is preferred, use more rice flour than wheat starch. The crystal like dumpling with transparent skin is the result of more wheat starch used.
For the fillings, you can also choose to use only chives and dried shrimps and it will still taste as good.
2020-05-12T16:00:00Z