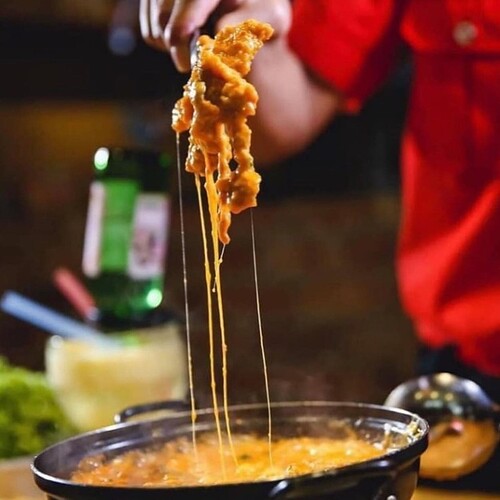 Image Source :
TripAdvisor
Location:
First Floor, No. 2, Jalan Puteri 2/2, Bandar Puteri, 47100 Puchong, Selangor.
Operating Hours:
Tuesday to Friday: 11am – 11pm ; Saturday: 11am – 12am ; Sunday: 11am – 11pm ;
Monday: Closed (Except Public Holiday)
Introduction :
Gangnam88 is a popular dining establishment located in Puchong, Selangor, Malaysia. Inspired by the vibrant and dynamic atmosphere of Gangnam, the famous district in Seoul, South Korea, this restaurant brings the flavors and spirit of Korean cuisine to the heart of Puchong. With its inviting ambience and delectable dishes, Gangnam88 offers an authentic and memorable Korean dining experience. The menu at Gangnam88 showcases a wide variety of traditional Korean dishes, from classic favorites like bibimbap, bulgogi, and kimchi to sizzling hotpots and tantalizing barbecue options. Each dish is crafted with precision and expertise, using fresh ingredients and traditional Korean cooking techniques to ensure an unforgettable culinary journey for guests.
Location and Accessibility :
Gangnam88 is conveniently situated on the first floor of No. 2, Jalan Puteri 2/2 in Bandar Puteri, Puchong, Selangor, Malaysia. The restaurant's location offers easy accessibility for both locals and visitors. Whether you're residing in Puchong or coming from neighboring areas, reaching Gangnam88 is convenient due to its central location. Guests can access the restaurant by car, taxi, or public transportation, and there are parking facilities available nearby. The accessible location ensures that diners can easily find their way to Gangnam88 and indulge in the authentic Korean dining experience it offers.
Operating Hours :
Gangnam88 welcomes guests from Tuesday to Friday, with operating hours from 11:00 AM to 11:00 PM. On Saturdays, the restaurant extends its hours until 12:00 AM, allowing for a late-night dining experience. Sundays also offer ample dining time, with operating hours from 11:00 AM to 11:00 PM. It's important to note that Gangnam88 is closed on Mondays, except on public holidays when it remains open to cater to customers' needs. The restaurant's flexible hours throughout the week provide options for lunch, dinner, and even late-night cravings, ensuring that customers can enjoy their favorite Korean dishes at Gangnam88 at their convenience.
What to expect :
Customers visiting Gangnam88 can expect several things:
Authentic Korean Cuisine: Gangnam88 specializes in serving authentic Korean cuisine, offering a wide range of traditional dishes prepared with care and expertise. Customers can expect the flavors, ingredients, and cooking techniques that capture the essence of Korean gastronomy.

Extensive Menu Options: The restaurant provides an extensive menu featuring a variety of Korean dishes to cater to different tastes and preferences. From popular classics like bibimbap and bulgogi to hotpots, barbecue options, and flavorful side dishes, there is something for everyone to enjoy.

Warm Hospitality: Gangnam88 prides itself on providing warm and friendly hospitality to its customers. The staff members are attentive and dedicated to ensuring a pleasant dining experience, offering assistance with menu selections and accommodating special requests.

Inviting Ambience: The restaurant's interior is designed to create an inviting and comfortable atmosphere for diners. The modern decoration, cozy seating, and pleasant lighting contribute to a relaxed and enjoyable dining environment.

Quality and Fresh Ingredients: Gangnam88 emphasizes the use of high-quality and fresh ingredients in its dishes. Customers can expect flavorful meals that showcase the authentic taste and quality of Korean cuisine.
Conclusion :
In conclusion, Gangnam88 in Puchong, Malaysia, offers a delightful and authentic Korean dining experience. With its extensive menu of traditional Korean dishes, warm hospitality, inviting ambiance, and emphasis on quality ingredients, the restaurant ensures that customers have an enjoyable and satisfying culinary journey. The central location of Gangnam88 makes it easily accessible to both locals and visitors, further adding to its appeal. Whether you're craving classic favorites or eager to explore new flavors, Gangnam88 delivers on its promise of authentic Korean cuisine and a memorable dining experience