After announcing that she's getting married to her non-celeb fiance in June, actress Jang Na-ra did just that on Sunday (June 26).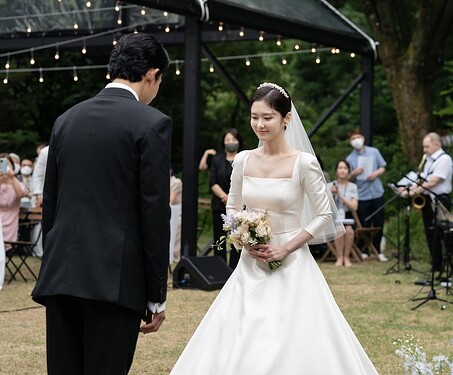 Many Korean outlets reported that the popular K-drama star held an outdoor wedding ceremony at Bonelli Garden in Seoul, South Korea.
Other than family members, attendees at the ceremony included her co-stars Jung Yong-hwa (Sell Your Haunted House) and Lee Sang-yoon (VIP).
It was hosted by comedian-actress Park Kyung-rim, who is Jang's best friend.
On Monday, her agency shared a message from the actress as well as photos from the ceremony.
One of it shows her walking down the aisle accompanied by her father, actor Ju Ho-Seong.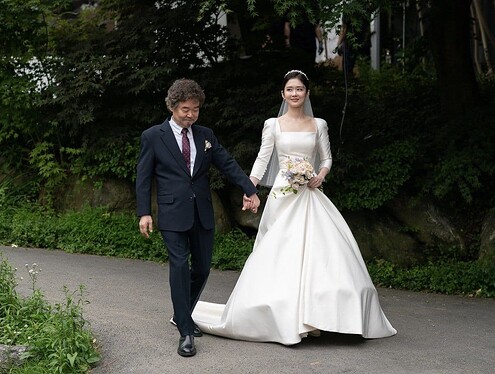 "Thank you for all your blessings and love and I will reciprocate your support. In my household, I'll be a good wife and I'll be a good actress at work, living a happy and full life," the 41-year-old said in the message as translated by entertainment site Allkpop.
The Last Empress actress previously mentioned that her husband works in video production and is six youngers than her.
She added this about her then fiance: "I fell for his sweet smile, his kindness, his earnest integrity, and most of all, for the way he carried himself as he poured his heart into his work."
Meanwhile, another outlet wrote that Jung – of the pop rock band CNBLUE – performed the song Love Light at the wedding ceremony.
Jung was quoted: "When I was filming Sell Your Haunted House, I promised that I would sing the congratulatory song if you got married. I kept my promise today."
The bride's brother, actor Jang Seong-won, also shared a video of the happy occasion on his Instagram.