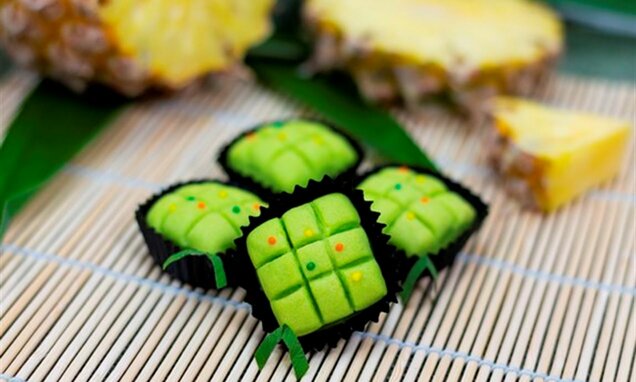 Image credit - oetker
10 Minutes - 30 pieces
INGREDIENTS
1 box [Dr. Oetker Nona Tarts]
200 gButter
1Egg (Large)
2 tsp Dr. Oetker Nona Pandan Emulco
1 tub Dr. Oetker Nona Pineapple Paste
Dr. Oetker Nona Hundreds & Thousands
DIRECTION
Preheat oven to 160˚C.
Place Dr. Oetker Nona Tarts, butter, and egg in a mixing bowl. Mix until dough form. Add pandan
emulco and mix well.
Roll the dough to 2.5cm ball (about 8g), flatten the dough-ball to 0.5cm thickness.
Roll pineapple paste to 1.5cm ball (about 5g). Place it in the middle of the dough, wrap it up and
insert the dough into a square cookie cutter to form ketupat shape.
Remove dough from cookie cutter, using a small knife, make criss-cross patterns on the tart and
decorate with hundreds & thousands.
Place tarts on lined baking tray and bake at 160˚C for 15 - 18 minutes.