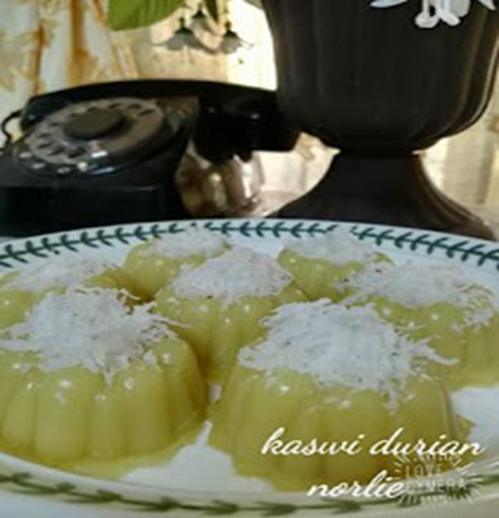 Image credit :
waktusolat.net
INGREDIENTS
• 300g durian fruit
• 150g fine sugar
• 250ml coconut milk
• 350ml water
• 150g tapioca flour
• 120g wheat flour
• 20g custard flour
• 1 tsp salt
• 2 pandan leave
• White grated coconut + a pinch of salt
• Food colouring
• Baking tin 9 * 9
DIRECTION
Add coconut milk, water, sugar and salt with the knotted pandan leave into a cooking pot,
Cook until it vaporised and sugar and salt with the knotted pandan leave.
Add the durian into a blander and the coconut mixture. Blend until smooth, then add flour in between and continue to blend until its well- combined and smooth.
Pour the batter into the baking tin. Heat up the steamer and steam the kuih for 30 mins until cooked. Set it aside to cool.
When the kuih is cooled, cut with a plastic knife and serve it with grated white coconut.