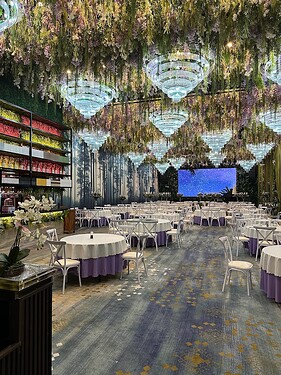 Image source: Google review
Location:
1, Jalan Bandar 2, Pusat Bandar Puchong, 47100 Puchong, Selangor
Operating hour:
Sunday ~ Thursday: 11 am–3 pm, 5 pm–12 am
Friday & Saturday: 11 am–3 pm, 5 pm–1 am
Description:
Jade Dragon Restaurant in Puchong is a culinary gem nestled in the heart of this vibrant city. With its elegant ambiance and a menu that showcases the best of Chinese cuisine, it's a dining destination that promises an unforgettable experience.
What to Expect:
When you step into Jade Dragon Restaurant, you can expect to be greeted by a warm and inviting atmosphere, perfect for both intimate dinners and larger gatherings. The restaurant boasts a diverse menu featuring an array of delectable Chinese dishes, from traditional favorites like dim sum and Peking duck to innovative and contemporary creations that will tantalize your taste buds. Their skilled chefs use the freshest ingredients and time-honored cooking techniques to ensure each dish is a masterpiece.
Whether you're a fan of seafood, poultry, or vegetarian options, Jade Dragon has something to satisfy every palate. Their attentive staff is always ready to assist with recommendations, ensuring you have a delightful dining experience.
Conclusion:
In conclusion, Jade Dragon Restaurant in Puchong is a must-visit for anyone seeking an exceptional Chinese dining experience. From the moment you enter, you'll be enchanted by the ambiance, and the culinary journey that follows will leave you craving for more. Whether you're celebrating a special occasion or simply looking for a memorable meal, Jade Dragon is sure to exceed your expectations with its impeccable service and mouthwatering cuisine.