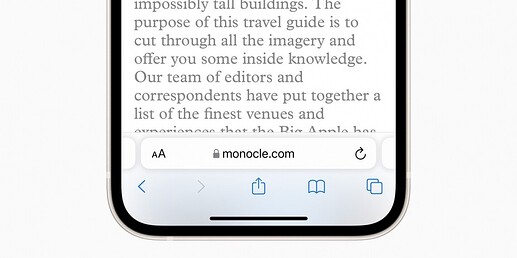 The recent iOS 15 update has given users so many new features, including an update for the Safari app. Safari now has a "newly designed browsing experience", including the new URL bar being "positioned at the bottom of the screen". But for those who would rather not have it be at the bottom, there's actually a way to put it back.
"By default, the new tab bar is positioned at the bottom of the screen, so users can easily swipe between tabs with one hand," wrote Apple in their newsroom update.
Apple also make a good point in saying that it's much easier to browse through open tabs on the phone with the URL bar being at the bottom. It also makes the app look more revamped and modern without the bulky address bar on top.
However, there have been some complaints (and funny observations) over the new update on Twitter. The new update also has people tweeting about "tab-shaming"—which refers to the Safari app letting users know how many tabs were open.
If you also are not too keen with the new change, there is a way to switch the URL bar back to the top. Here's how to do it:
Go to Settings, then press Safari

Go to the Safari app, and you'll be able to see the URL bar back at the top!
iOS 15 also comes with a huge list of new features. They include a very exciting Focus app that helps users reduce distraction by filtering notifications based on what a user wants to focus on in that moment, and Portrait mode on FaceTime—to name a few.
iOS 15 is now available for all devices that currently supports iOS 14. This includes the iPhone 6s and 6s Plus from 2015 as well as the first gen iPhone SE.
Source: SoyaCincau