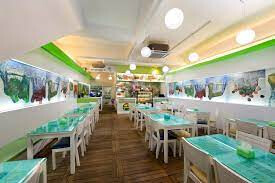 Image source: Facebook My Vegetarian 我的素食
Location: 41G, Jalan Puteri 5/20, Bandar Puteri, 47100 Puchong, Selangor
Operating hours: Mon - Sun (9.30 am - 9 pm) (except Tuesday)
My Vege stands out as a culinary gem dedicated to offering delectable vegetarian cuisine. With its commitment to quality ingredients, innovative recipes, and a warm ambiance, this restaurant offers a refreshing dining experience that caters both vegetarians and non-vegetarians alike.
Restaurant ambience
My Vege restaurant boast a cozy and inviting atmosphere, with tasteful decor that reflects a perfect blend of modernity. The well-lit interior, coupled with comfortable seating, creates a welcoming overall pleasant experience, ensuring that guests can enjoy their meal in a relaxed quality.
Menu and food quality
The restaurant offers an extensive menu, featuring a wide array of vegetarian dishes that cater to diverse palates. It ensures that there is something for everyone. The food is prepared using high-quality, fresh ingredients, resulting in flavors that are both rich and satisfying.
Service
The staff at My Vege are commendable for their professionalism and attentiveness. Servers are knowledegable about the menu, willing to make recommendations, and prompt in attending to diners' needs. The timely service ensures that guests are not left waiting, contributing to a smooth and enjoyable dining experience.
Pricing
The pricing at My Vege is reasonable. offering good value for money, by considering the quality of ingredients used and the portion size, the menu is fairly priced.
To sum up, My Vege stands out as a great option for vegetarian cuisine in the city. With its charming ambience, diverse menu, exceptional service, and reasonable pricing, it provides a dining experience that is both delightful and satisfying.