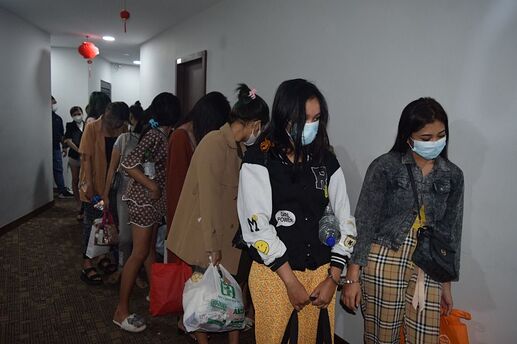 KUALA LUMPUR: A total of 27 individuals, including 25 foreign women believed to be prostitutes, were detained following raids at a condominium and a hotel in Puchong.
The operation codenamed "Ops Gegar" was conducted by 21 Immigration officers at about 5pm on Friday (Aug 26).
Immigration department director-general Datuk Seri Khairul Dzaimee Daud said the foreign women detained were 20 Indonesians, three Thais and two Vietnamese aged between 18 and 47.
"We also detained two local men who were the caretakers of the premises," he said in a statement on Tuesday (Aug 30).
Initial investigations revealed that the foreign women dressed like locals to attract customers, he said.
"One of the foreign women detained is suspected to be the "mummy" or the one in charge of managing them.
"The 28-year-old woman was detained at the condominium," he said.
Various items were seized including RM9,325 cash, condoms, lubricants and a log book recording workers' attendance and list of customers, Khairul Dzaimee said.
"Customers interested in getting the syndicate's services would communicate via WhatsApp.
"They will then be given a code word to enter the premises," he said.
Customers were charged RM240 to book each women for sex, Khairul Dzaimee Daud.
"The women would work from 11am until 4am at the hotel.
"Those who are sick will be placed at the condominium under the care of the mummy. They are confined there until they recover," he said.
The condominium was also used as a transit point for women who arrived from Indonesia or Thailand before they were sent to the hotel to work as prostitutes, he said.
"We believe the syndicate has been operating for almost two years.
"The foreign women entered Malaysia using social visit passes," he added.
The department will tighten security at the country's borders and perform more stringent checks on travel documents of tourists arriving, Khairul Dzaimee said.
"Those detained were brought to Putrajaya Immigration office for further investigation," he said.
Source: The Star