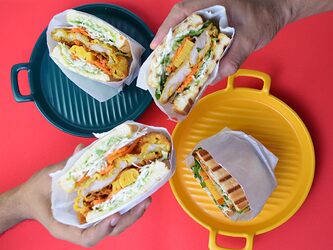 Image source: Bespoke
Location:
Level 5 Unit 2A-G, Block F, Setiawalk, Persiaran Wawasan, Pusat Bandar Puchong, 47160 Puchong, Selangor.
Operating Hours:
7.00 am – 3.00 pm, daily
Introduction :
This cafe has a modern and cozy interior, and it's known for its coffee and Western-style brunch dishes. The menu features a variety of options, including burgers, pasta, sandwiches, and all-day breakfast items. The cafe also offers outdoor seating with a view of the surrounding area.
Location and Accessibility :
If you're coming by car, you can park at the Setia Walk shopping mall's parking lot, which is adjacent to the cafe. Alternatively, you can take public transportation, such as the LRT, to the Pusat Bandar Puchong station and then take a short walk to Setia Walk.
Operating Hours :
This restaurant is open daily from 7.00 am to 3.00 pm. Please note that these operating hours are subject to change, and it's always a good idea to call the cafe or check their website or social media pages to confirm their current operating hours before visiting.
What to expect :
One of the signature dishes at Horizon Cafe by Bespoke is their "Bespoke Big Breakfast." This dish is a hearty breakfast platter that includes scrambled eggs, chicken sausages, baked beans, sauteed mushrooms, hash browns, grilled tomatoes, and toast.
Another popular dish is the "Burgers and Fries," which features a juicy beef patty topped with melted cheese, lettuce, tomato, and onion, served with a side of crispy fries. The cafe also offers a range of pasta dishes, such as the creamy carbonara and spicy aglio olio.
In terms of beverages, the cafe's signature drink is the "Bespoke Latte," which is a coffee-based drink with a latte art design on top. They also serve other coffee-based drinks like cappuccinos, flat whites, and Americanos, as well as a selection of teas, juices, and smoothies.
Conclusion :
Overall, Horizon Cafe by Bespoke is located in a convenient area with easy accessibility, making it a great spot for a casual meal or meeting up with friends. Besides, they offer a variety of dishes to suit different tastes, but their Bespoke Big Breakfast and Burgers and Fries are definitely worth trying if you're a fan of hearty breakfast or classic Western-style dishes.