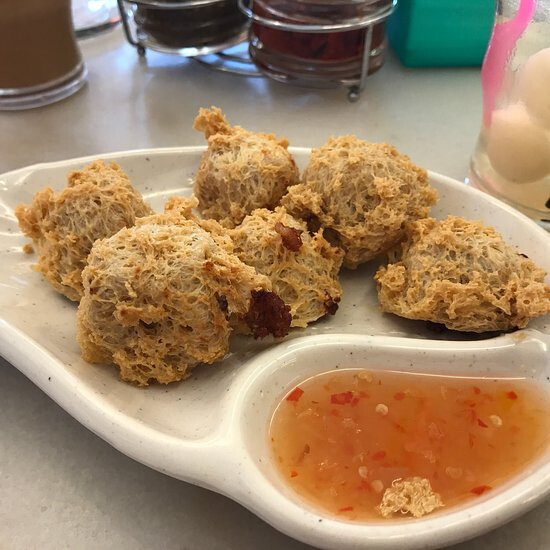 Image Source :
Tripadvisor Hahasiu Pan Mee
Location:
7, Jalan Kenari 19a, Bandar Puchong Jaya, 47100 Puchong, Selangor
Operating Hours:
Monday - Sunday : 9:30 AM - 8:30 PM (Closed on Tuesday)
Introduction :
Hahasiu Pan Mee is a popular eatery located in the bustling town of Puchong, Selangor. Known for its delectable pan mee dishes, the restaurant has been satisfying the cravings of locals and tourists alike. Hahasiu Pan Mee prides itself on its homemade noodles, which are freshly prepared daily and cooked to perfection upon order. The restaurant offers a variety of pan mee dishes from classic soup-based options to dry-style noodles with flavorful sauces and toppings. With a cozy and welcoming ambience, Hahasiu Pan Mee is the perfect spot for a delicious and satisfying meal.
Location and Accessibility :
Hahasiu Pan Mee is located at 7, Jalan Kenari 19a, Bandar Puchong Jaya, which is a convenient location in Puchong, Selangor. The restaurant is easily accessible by car or public transportation. There are ample parking spaces available nearby and the Puchong Jaya LRT station is just a short distance away.
Operating Hours :
Hahasiu Pan Mee operates from 9:30 AM to 8:30 PM every day except Tuesday, when the restaurant is closed. This means that customers have ample time to drop by for breakfast, lunch, or dinner throughout the week. Additionally, the earlier opening time is convenient for those who want to grab a bite before starting their workday. However, it is important to note that the restaurant is closed on Tuesdays, so customers should plan their visits accordingly.
What to expect :
Hahasiu Pan Mee is known for their specialty dish, pan mee, as one of the customers, I can expect a variety of options to choose from including dry and soup versions, as well as different toppings and flavors. In addition to their signature dish, the restaurant also offers other classic Malaysian favorites such as curry laksa and nasi lemak. I also expect friendly service and a cozy ambience.
Conclusion :
In conclusion, Hahasiu Pan Mee is a popular eatery that serves delicious pan mee dishes with a variety of toppings and broth options. Customers can expect fresh, homemade noodles and generous portions at affordable prices. With its convenient location and friendly staff, it's a great spot for a casual meal with friends or family.