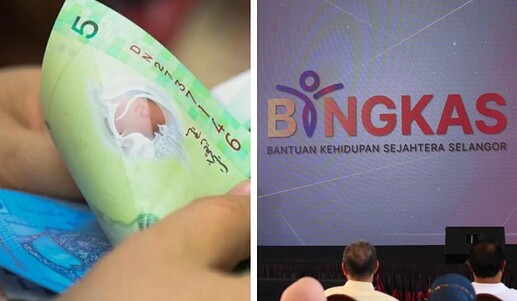 The Selangor government will allocate RM3,600 a year or RM 300 a month to each eligible family through the Bantuan Kehidupan Sejahtera Selangor (BINGKAS).
BINGKAS was announced in the Selangor 2022 Budget with an allocation of RM108 million to help 30,000 families, including single mothers, face post-pandemic challenges.
The program is a continuation of Kasih Ibu Smart Selangor (KISS) and KISS IT (Single Mother) which gave RM200 cash a month.
Menteri Besar Datuk Seri Amirudin Shari said the payout for BINGKAS started in February 2022.
The money is meant for the people to buy household necessities and pay for their children's education.
Eligibility Requirements
Head of the family with children/dependents under 18 years and below.

Family income below RM3,000.

Selangor resident.
Documents required:
Copy of applicant's identity card

Copy of spouse & dependent's identity card

Proof of income (salary slip/ income confirmation letter if not employed or self-employed)

Copy of Election Commission (EC) review

Copy of people with disabilities (OKU) card (if applicable)

Copy of death/divorce certificate (if applicable)
KISS cardholders need to update the information within two months, from 1 July 2022 to 31 August 2022, to continue the benefits.
It is necessary to download the Selangkah application and WavPay e-Wallet on your smartphone to process the benefit payment.
BINGKAS Terms:
Family income below Rm3000.
Have dependents under 18 years old.
Voters in the State of Selangor.

Features of BINGKAS:
Purchase limit of RM300
The balance is not carried over to the next month.
Automatic disbursement every month.
Can be used to buy necessities and educational items (school needs such as books).

How To Apply
Applications are open from 1 July 2022 on the website www.bingkasselangor.com.
Before applying, ensure you have downloaded and registered a Selangkah account.
The following is a list of hotlines in case of any difficulties regarding the BINGKAS program:
BINGKAS application & general questions: 1-800-22-6600
Step Application: Inapps Helpdesk/Livechat
E-Wallet Activation: 016-325 4199 (Whatsapp) or [email protected]

Source: The Rakyat Post