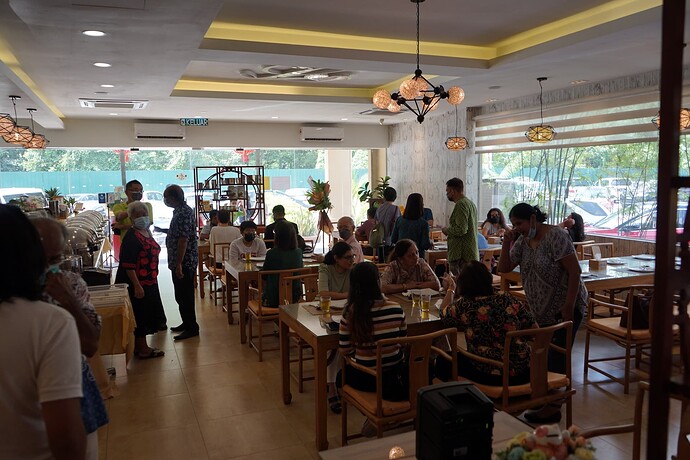 Image source :
Facebook Loving Hut Puchong
Location:
15, Jalan Puteri 2/7, Bandar Puteri, 47100 Puchong, Selangor
Operating Hours:
Monday - Sunday : 11:00 AM - 3:00 PM & 5:30 PM - 9:00 PM
Introduction :
Loving Hut is a popular chain of vegan restaurants that offers delicious and healthy plant-based cuisine. The Loving Hut in Puchong is one of the branches in Malaysia, located in the busy town of Puchong. It has a vibrant and welcoming ambience with friendly staff and an extensive menu that caters to all kinds of dietary requirements, including gluten-free and nut-free options. Loving Hut Puchong is committed to promoting veganism and sustainability that using only the freshest and locally sourced ingredients to create a diverse and tasty menu.
Location and Accessibility :
Loving Hut Puchong is located in the bustling town of Puchong, specifically at 15, Jalan Puteri 2/7, Bandar Puteri, which is easily accessible by car or public transportation. The restaurant is situated in a busy commercial area with ample parking spaces available which making it a convenient spot for customers to drop by and enjoy a satisfying vegan meal. Additionally, the location is within walking distance from major shopping centers and entertainment venues, making it an ideal destination for those who are looking for a delicious and healthy meal while exploring the area.
Operating Hours :
Loving Hut Puchong is open every day from 11:00 AM to 3:00 PM and 5:30 PM to 9:00 PM. They serve lunch and dinner during these hours, offering a range of vegan and vegetarian dishes for customers to enjoy. Whether you're looking for a quick bite or a hearty meal, Loving Hut Puchong is a great place to visit.
What to expect :
As a customer can expect a wide range of vegan and vegetarian dishes at Loving Hut Puchong, including Asian and Western cuisine. Customers also appreciate the affordable prices and the friendly and attentive service provided by the staff. The restaurant's ambience is also praised with a cozy and comfortable setting that is suitable for both casual dining and special occasions. Overall, customers can expect a satisfying and enjoyable dining experience at Loving Hut Puchong.
Conclusion :
In conclusion, Loving Hut Puchong is a popular vegan restaurant that offers a wide range of delicious and healthy dishes. With a cozy and welcoming ambience, friendly staff and reasonable prices, it's a great choice for anyone looking for a healthy and tasty meal. \