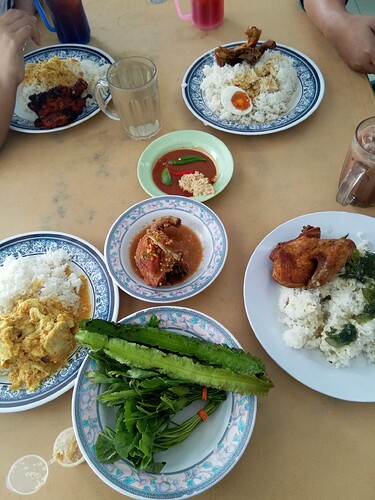 Image Source :
Facebook Restoran Ayam Kampung Tuan Faridah
Location:
No. 61 Jalan BP 6/7, 47100 Puchong Selangor, Malaysia
Operating Hours:
Saturday - Thursday : 9:30 AM - 4:30 PM (Closed at Friday)
Introduction :
Restoran Tuan Faridah is a popular dining establishment located in Puchong, Selangor, Malaysia. With a reputation for serving delicious and authentic Malaysian cuisine, it has become a favorite destination for locals and tourists alike. The restaurant is known for its warm and welcoming ambience, providing a comfortable setting for guests to enjoy their meals. The skilled chefs at Restoran Tuan Faridah use fresh ingredients and traditional cooking techniques to create dishes that are both visually appealing and tantalizing to the taste buds.
Location and Accessibility :
Restoran Tuan Faridah is conveniently located at No. 61 Jalan BP 6/7 in Puchong, Malaysia. Situated in the heart of Puchong, it offers easy accessibility for both locals and visitors. The restaurant's central location makes it a convenient dining option for those exploring the Petaling District in Selangor. Whether you're staying in Puchong or nearby areas, reaching Restoran Tuan Faridah is hassle-free due to its well-connected transportation links. Visitors can access the restaurant by car, taxi, or public transportation, with ample parking available nearby. The accessible location ensures that diners can easily find their way to enjoy the delightful Malaysian cuisine offered at Restoran Tuan Faridah.
Operating Hours :
Restoran Tuan Faridah welcomes guests from Saturday to Thursday, with operating hours from 9:30 AM to 4:30 PM. However, please note that the restaurant is closed on Fridays. Whether you're looking to enjoy a delicious lunch or an early dinner, Restoran Tuan Faridah provides a convenient window of time to satisfy your cravings for authentic Malaysian cuisine. The operating hours allow both locals and tourists to plan their visit accordingly and indulge in the flavorsome offerings during the designated days of the week.
What to expect :
Customers visiting Restoran Tuan Faridah can expect a few key things:
Authentic Malaysian Cuisine: Customers can anticipate a wide range of authentic Malaysian dishes prepared with traditional recipes and high-quality ingredients. From flavorful curries to aromatic rice dishes and tantalizing seafood options, the menu aims to showcase the diverse flavors of Malaysian cuisine.

Friendly and Attentive Service: Restoran Tuan Faridah strives to provide excellent customer service. Guests can expect a warm and welcoming environment, with friendly staff members who are attentive to their needs. The restaurant staff is knowledgeable about the menu and can assist with recommendations or any special dietary requirements.

Comfortable and Inviting Ambience: The restaurant offers a pleasant and cozy ambience where customers can enjoy their meals. Whether it's a casual lunch or a gathering with friends and family, Restoran Tuan Faridah aims to create a comfortable setting for guests to relax and savor their dining experience.

Good Value for Money: Customers can expect reasonable pricing for the quality and portion sizes of the dishes served at Restoran Tuan Faridah. The restaurant aims to provide good value for money, ensuring that customers feel satisfied with their dining experience.
Conclusion :
In conclusion, Restoran Tuan Faridah in Puchong, Malaysia, is a renowned dining destination that offers a delightful experience for lovers of authentic Malaysian cuisine. With its central location, accessible transportation links, and operating hours catering to lunch and early dinner, the restaurant provides convenience for locals and tourists alike. Customers can expect a diverse menu of flavorful dishes, friendly and attentive service, a comfortable ambience, and good value for money.