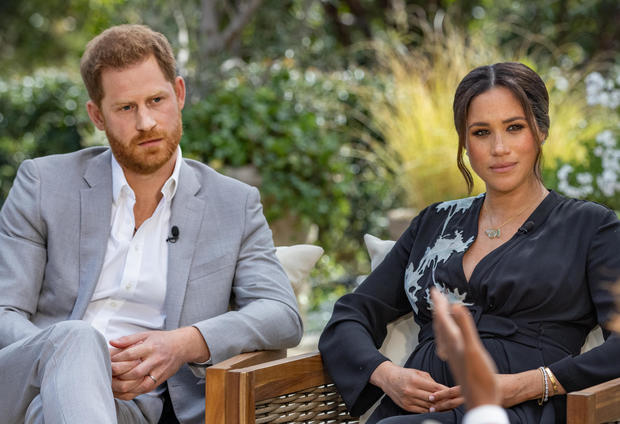 Conversations about "how dark" their baby's skin tone would be. A rift between Prince Harry and his father so deep that Harry said his father at one point "stopped taking my calls." And Meghan, Duchess of Sussex saying she "just didn't want to be alive anymore."
These were some of the shocking details described by Harry and Meghan in an exclusive interview with Oprah Winfrey, the first they have given since they stepped away from official royal duties last year. They said they would have stayed had they gotten support from the royal family.
In one of the only lighthearted moments, the couple revealed their second child, expected this summer, will be a girl.
But Harry and Meghan spent most of the discussion trying to give their side of many of the tabloid stories that have circulated about them since they got together, including one about how Meghan had once made her sister-in-law, Catherine, cry.
While they had harsh words for their treatment in the press, the most disturbing parts of the interview centered on how they were treated by members of the royal family. Harry said he had a "really good relationship" with the Queen, but said he was "disappointed" by his father and that, while he loves his brother William "to bits," they're on "different paths."
Meghan said that "in the months when I was pregnant… we have in tandem the conversation of he won't be given security, he's not going to be given a title, and also concerns and conversations about how dark his skin might be when he's born." Harry said it was not a conversation he ever wanted to discuss.
Meghan said she had a "clear and real and frightening thought" about suicide while she was a working member of the royal family. Harry said she did not receive any support from the royal family over her mental health, saying, "it was not a conversation to be had."
The pair focused heavily on the royal family's refusal to provide security for them, an especially grave concern for Harry given his mother's death. He said that his experience with Meghan showed him how hard it must have been for his mother.
Source: CBS News