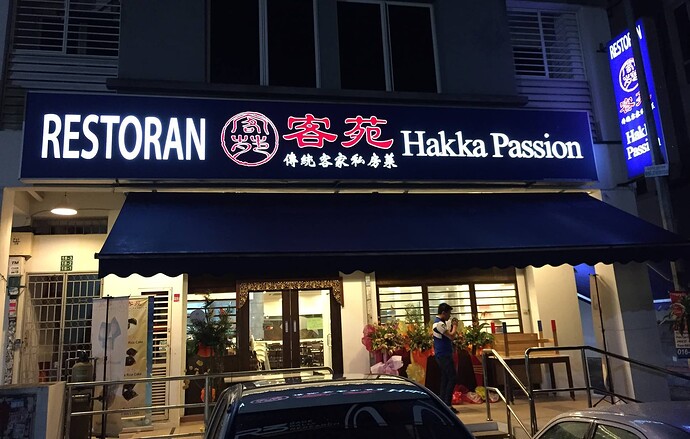 Image Source :
Facebook Hakka Passion
Location:
18, Jalan Puteri 2/5, Bandar Puteri, Puchong, Malaysia
Operating Hours:
Monday - Sunday : 10:30 AM - 9:00 PM
Introduction :
Hakka Passion is a Chinese restaurant located in Puchong, Selangor, Malaysia. The restaurant serves a variety of traditional Hakka dishes, such as abacus beads, Hakka yong tau foo and Hakka pan mee along with other Chinese dishes. The restaurant's interior is simple and cozy, with wooden furniture and warm lighting, providing a comfortable dining experience for customers. Hakka Passion is popular among locals and tourists alike, with many praising the restaurant for its delicious food and friendly service.
Location and Accessibility :
Hakka Passion is located at 18, Jalan Puteri 2/5 in Bandar Puteri, Puchong, Malaysia. The restaurant is situated in a commercial area and is easily accessible by car or public transportation. There are ample parking spaces available nearby, and the restaurant is located within walking distance from the Puchong Jaya LRT Station.
Operating Hours :
Hakka Passion operates every day of the week from Monday to Sunday, with opening hours from 10:30 AM to 9:00 PM. They provide ample time for customers to visit and enjoy their Hakka-style dishes throughout the day, whether for lunch or dinner. The restaurant's consistent operating hours allow customers to plan their visit in advance and provide flexibility for those who have busy schedules. It is worth noting that Hakka Passion maintains its operating hours even during public holidays, providing customers with the opportunity to savor their signature dishes at any time.
What to expect :
As the name suggests, customers can expect to enjoy traditional Hakka cuisine at Hakka Passion. The restaurant is known for its signature dishes such as Hakka Yong Tau Fu, Hakka Lui Cha, and Abacus Seeds. Customers can also expect a cozy and casual dining ambience with friendly and attentive service. Overall, customers who are fans of Hakka cuisine or looking to try something new can expect a satisfying dining experience at Hakka Passion.
Conclusion :
In conclusion, Hakka Passion is a restaurant located in Bandar Puteri, Puchong that specializes in serving delicious Hakka cuisine. The restaurant is easily accessible and open every day from 10:30 AM to 9:00 PM. Customers can expect to enjoy a wide variety of dishes, including their famous yong tau foo, Hakka-style pork belly, and crispy fried squid. With its cozy and welcoming ambience, Hakka Passion is a great place for families and friends to enjoy a hearty meal together.