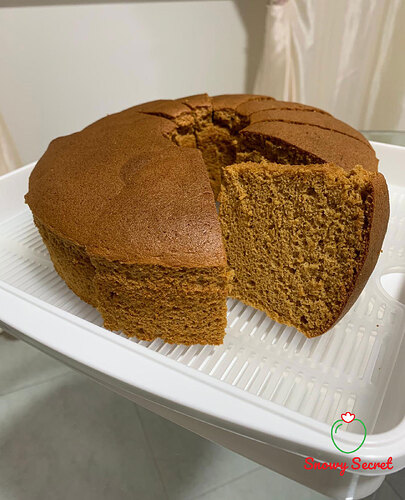 INGREDIENTS
150g Gula Melaka
100g coconut milk
2 pcs pandan leaves
6 pcs egg (60g each)
150g self raising flour
35g caster sugar
1/4 cream of tartar
4 tsp coconut oil or olive oil
DIRECTION
Boiled at low heat for gula melaka, coconut milk, and pandan leaves until dissolves then side aside to cool.
Mix and stir egg yolk with coconut oil, followed by the gula melaka syrup.
Pour in the self-raising flour and stir well till combined.
Whish egg whites and cream tartar till frothy with mixer at low speed, add in the sugar in 3 times continue to beat egg white until stiff peak form.
Add 1/3 of the egg white into egg yolk mixture and fold well. Then gently fold in the rest of egg whites till combined.
Pour batter into an 8 inch chiffon tube pan.
Bake in the preheated owen at 170c for about 40-45minutes
Invert the cake pan immediately to cook completely before removing the cake from pan.