Terms and Conditions
How to Buy?
Select any ticket with (ReRun) in title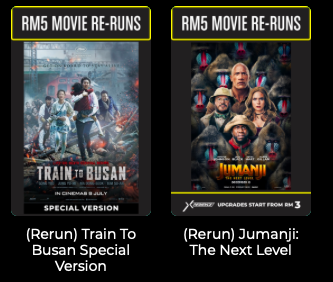 Where to Buy?
GSC e-Kiosk, GSC website & GSC Mobile app
Promotion Period
1 - 29 July 2020
Location:
GSC Nationwide
Remarks:
Depend on availability
What you will get:
RM5 per ticket (only applicable for Digital 2D, Dolby Atmos & GSC Maxx if available)
Surcharge for Experience upgrade will be applicable accordingly
Other T&C:
This promo is from 01-29 July for ReRun titles only.
This promotion is valid for purchase over the counter, web, mobile app & e-kiosk purchases
Not valid for any credit card/bank promotions including GSC Hong Leong card promotion.