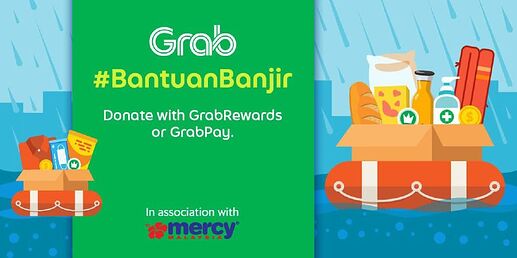 PETALING JAYA: Grab Malaysia is kicking off its #BantuanBanjir initiative by partnering with MERCY Malaysia to raise funds to aid in flood relief efforts.
The collaboration will enable Grab users to convert their GrabRewards into donations to Mercy Malaysia, with Grab matching these contributions, to help provide assistance to families and communities affected by the recent storm.
In addition, Grab will provide partners on the platform who have been impacted with necessary support and relief.
"I want to take this opportunity to commend all our users, partners and Grabbers nationwide for your compassion and kindness amid the recent flooding.
"Through our #BantuanBanjir initiative and partnership with MERCY Malaysia, we hope to help address the immediate dire needs of the affected communities.
"We are very grateful to be in a position to bring the community together to stand behind these efforts," said Sean Goh, Managing Director of Grab Malaysia.
The #BantuanBanjir initiative includes other efforts such as merchant-partner relief where Grab will be running a nationwide free delivery promotion especially for merchant-partners whose premises and operations have been affected by the floods.
This is to help boost their visibility and sales to make up for the temporary forced closure due to the flood; and,
There will also be Grabber volunteers where Grab Malaysia encourages fellow Grabbers to utilise their Love-All-Serve-All (LASA) Day to volunteer and bolster up the manpower to help with MERCY Malaysia or any other organisation of their choice.
LASA is a day of leave for Grabbers to volunteer for worthy causes of their choice.
MERCY Malaysia President Prof Datuk Dr Ahmad Faizal Mohd Perdaus said they truly appreciate Grab's support in their ongoing flood aid and recovery plan through this critical time of need.
"MERCY Malaysia values this partnership as it strengthens our emergency response and reaches, providing humanitarian aid to the affected communities and addressing their immediate needs."
Source: New Straits Times