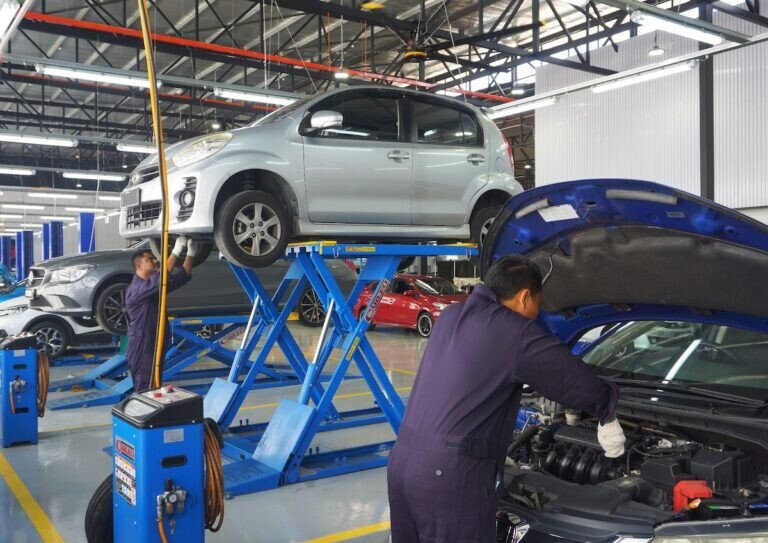 GoCar is a Malaysian car sharing platform that allows users to book a car by the minute, hour or day. They just launched a new feature, GoCar Garage, that lets you book car maintenance and servicing appointments straight from your phone.
The base service covers an Express Pit Stop service that includes an oil change and a car wash. Users can then select specific parts that need to be repaired or maintained, which will cost extra.
They also offer an optional pick up and drop off service, so you don't have to leave your house as your car gets serviced. As part of a launch promotion, pickups within Klang Valley will be completely free.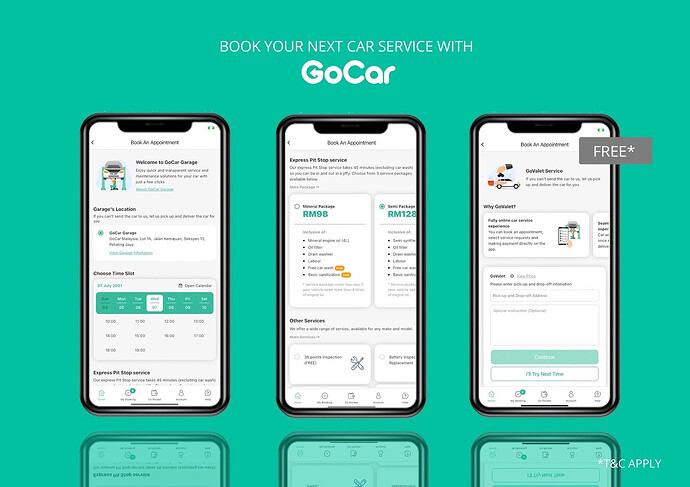 GoCar claims to have transparent pricing structures with no hidden fees or surprise costs. This allows users to confirm and approve what they would need to pay at the end of the service.
Other benefits include free car wash and sanitisation, a free 31-point vehicle inspection, a six month warranty on replacement parts, and a free two-hour usage of GoCar sharing when your vehicle is being serviced. Note that they do have a one-time RM20 membership fee before you can use their services.
Located at Jalan Kemajuan in Petaling Jaya, the GoCar Hub houses a service centre with trained and skilled technicians. They offer a range of services that you can choose from, including their express pit stop with a 45 minute oil change. The technicians can also repair or maintain specific parts like the battery, tyres, air conditioning, brake, engine, electricals, and body.
Pricing for GoCar Garage
When you book an appointment, you can choose between three packages for the Express Pit Stop service. This service will only take 45 minutes (excluding the car wash).
The cheapest package is the Mineral Package, set at RM98. This consists of 4L of mineral engine oil, oil filter, drain washer, labour costs, a car wash, and basic sanitation. Costs may differ if your car needs more than 4L of oil.
The second package offered is the Semi Package, set at RM128. This includes everything that the Mineral Package offers, but they use 4L of semi synthetic engine oil instead.
The most expensive package is the Full Package, priced at RM198. This is the same as the previous two packages, but uses 4L of fully synthetic engine oil instead.
You can also opt-in for other services like a free 36-point inspection. Other services for specific parts like your air conditioner or battery would cost extra though. The actual cost depends on your vehicle's condition. For example, during their inspection, if the technicians think that a procedure should be done, you will be notified and can decide whether to proceed with the recommended repairs through the app.
The pricing for pick ups and drop offs through GoValet will vary based on distance. If the distance is less than 10km, the cost will be RM10. If it's more than 10km, the cost will be RM20. Do keep in mind that GoValet has a maximum distance of 50km.
How to use GoCar Garage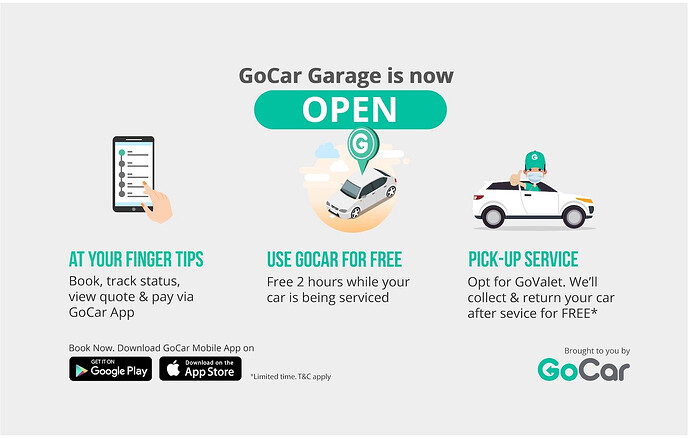 To service your vehicle, you first need to open up the GoCar app and book an appointment. This includes submitting some identification information about yourself and your car, as well as selecting what services you want.
Then, the app will give you a cost breakdown with a proposed appointment schedule. After this, just wait for your appointment and GoCar Garage can start the servicing of your vehicle.
Once the servicing is done, the app will notify you of its completion and you can pay directly on the app with credit or debit cards, online banking or GoPocket points. You can either pick up your car at the GoCar Hub in Petaling Jaya or arrange for a GoValet to drop it off for you.
If you don't want to use the app, you can also call 1300-30-2633 or email [email protected] to schedule an appointment.
To find out more about GoCar Garage, you can visit their website or download the GoCar mobile app on the Apple App Store or the Google Play store.
Source: SoyaCincau