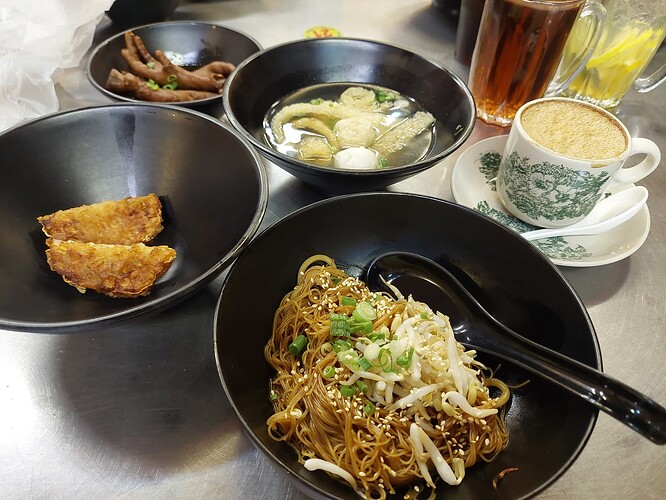 Image Source :
Facebook MC Noodle
Location:
No.4 & 6, Jalan Puteri 5/8, Bandar Puteri, Puchong, Malaysia
Operating Hours:
Monday - Sunday : 7:30 AM - 3:30 PM
Introduction :
MC Noodles is a popular eatery located in Puchong, Selangor, Malaysia, specializing in delicious and authentic noodle dishes. With its dedication to serving flavorful and satisfying bowls of noodles, this restaurant has gained a reputation for its delectable offerings. From classic favorites like wonton noodles and curry laksa to unique creations, MC Noodles offers a diverse menu that caters to different taste preferences. The restaurant takes pride in using high-quality ingredients and traditional cooking techniques to ensure each bowl of noodles is packed with flavor. With a cozy and welcoming ambiance, MC Noodles provides a comfortable setting for diners to enjoy their meals.
Location and Accessibility :
MC Noodles is conveniently located at No.4 & 6, Jalan Puteri 5/8 in the bustling area of Bandar Puteri, Puchong, Malaysia. Situated in a prime location, the restaurant enjoys easy accessibility for both locals and visitors. Whether you reside in Puchong or are exploring the surrounding areas, MC Noodles is easily reachable due to its central position. The restaurant benefits from excellent transportation links, making it convenient to reach by car, taxi, or public transportation. Additionally, there are parking facilities available nearby, ensuring a hassle-free experience for customers.
Operating Hours :
MC Noodles welcomes customers seven days a week, with operating hours from 7:30 AM to 3:30 PM. Whether you're an early riser looking for a hearty breakfast or craving a delicious lunch, MC Noodles is there to satisfy your noodle cravings. The restaurant opens its doors early in the morning, ensuring that customers can start their day with a warm and comforting bowl of noodles. With its convenient operating hours, MC Noodles caters to both morning and afternoon diners, allowing them to enjoy their favorite noodle dishes throughout the day.
What to expect :
Customers visiting MC Noodles can expect the following:
Authentic and Flavorful Noodle Dishes: MC Noodles is known for serving authentic and flavorful noodle dishes that capture the essence of Malaysian cuisine. Customers can expect a wide variety of noodle options, from classic favorites to unique and innovative creations, all prepared with care and attention to detail.

Fresh and High-Quality Ingredients: The restaurant prides itself on using fresh and high-quality ingredients to ensure the best flavors in their noodle dishes. Customers can expect ingredients that are carefully selected and sourced to create delicious and satisfying meals.

Customization and Personalization: MC Noodles understands that everyone has different preferences when it comes to their noodles. Customers can expect the flexibility to customize their dishes according to their taste, such as choosing the type of noodles, level of spiciness, and additional toppings.

Efficient and Friendly Service: The staff at MC Noodles are known for their efficient and friendly service. Customers can expect a warm welcome, prompt attention, and helpful recommendations if needed. The restaurant strives to create a welcoming and comfortable atmosphere for diners.
5.Clean and Inviting Ambience: The restaurant maintains a clean and inviting ambience, providing a pleasant environment for customers to enjoy their meals. Whether dining alone or with friends and family, MC Noodles offers a cozy setting to relax and savor their delicious noodle dishes.
Conclusion :
In conclusion, MC Noodles in Puchong, Malaysia, is a popular destination for noodle lovers seeking authentic and flavorful dishes. With its convenient location, operating hours, and dedication to using fresh ingredients, customers can expect a delightful dining experience. From the moment they step into the restaurant, they are greeted with friendly service and a clean, inviting ambiance. MC Noodles offers a diverse menu of noodle options, allowing customers to customize their meals to their preferences.