FORMER TECHNICIAN JAILED, FINED FOR BRIBING COP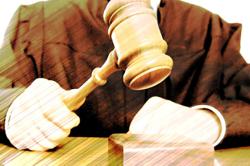 KUALA LUMPUR: A former air conditioning technician was sentenced on Thursday (Oct 26) to one day in jail and fined RM3,000, in default six months in jail, by the Sessions Court here for giving a RM400 bribe to a policeman to avoid action taken against him for suspected drug possession.
Judge Azura Alwi handed down the sentence on Chun Wai Hou, 21, after he changed his plea to guilty to an alternative charge when the case came up for mention on Thursday.
He was ordered to serve the jail sentence on Thursday.
According to the alternative charge, Chun was alleged to have given a bribe of RM400 to Lance Corporal Mohd Firdaus Abd Talib, of the Motorcycle Patrol Unit, Brickfields District Police Headquarters (IPD) as an inducement for the policeman to not take action against him for an offence under Section 12(2) of the Dangerous Drugs Act 1952 for possessing nine packets of drugs.
The offence was allegedly committed by the roadside at Jalan Puchong Mutiara, Petaling here, at 12.30am on July 14.
The charge was framed under Section 214 of the Penal Code which provides maximum imprisonment of 10 years or a fine or both, upon conviction.
According to the facts of the case, a police team was on patrol in the area when one of the team members stopped Chun's car for inspection because it was being driven in a suspicious manner.
When asked by the policeman for his identification documents, Chun instead took out RM400 from his trouser pocket to give to the policeman to settle the matter.
Despite being warned by the policeman, Chun insisted on giving the money by attempting to stash the money in the policeman's trouser pocket.
Following a search, the police found the drugs on Chun.
Malaysian Anti-Corruption Commission (MACC) prosecuting officer Afiqah Ab Razak prosecuted, while Chun was represented by lawyer Goh Lee Fook. - Bernama
Source: thestar