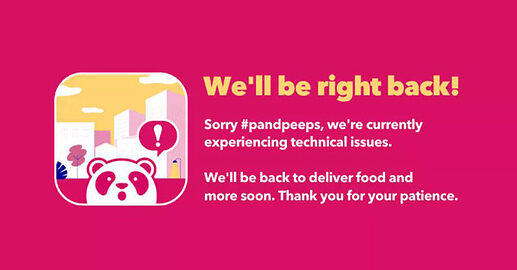 The popular food and grocery delivery platform Foodpanda appears to be undergoing some technical issues on their app, resulting in downtime for users in Malaysia today (11th June).
Earlier in the day, we had noticed that while you could place orders on the app, you could not pay using your credit card or debit card. This resulted in an in-app notice popping up asking for users to choose Cash on Delivery when ordering through Foodpanda. They also noted that any online payments facing issues will be refunded.
However, users on social media began claiming that choosing Cash on Delivery didn't help, and that they were still not getting their orders. Meanwhile, a Twitter user claiming to be a Foodpanda rider asked for users to not order with the app. This was because while the rider would receive the notification to go to the restaurant, the restaurant themselves were getting the orders late, sometimes up to 2 hours after the order was placed. They had also said that Foodpanda was cancelling orders that was taking over an hour to settle.
In the end, by 5.30pm the whole Foodpanda app appeared to be down. There was also a new update in the app, this time saying:
According to their Twitter, they are currently facing technical issues and will be back soon, although they did not say by when.
They've also since released a statement, acknowledging the downtime and that they are sorry for the trouble. Foodpanda also added:
"We would like to once again sincerely apologize for any inconvenience caused, and would like to assure everyone that we are working hard to provide the best delivery experience for our partners, riders and customers as soon as possible," – Foodpanda statement
As for those who want to get help regarding their Foodpanda orders, you can reach out to them by emailing [email protected].
Source: SoyaCincau