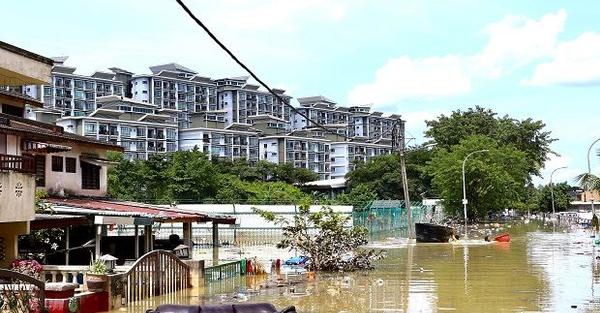 SHAH ALAM: At least seven deaths have been recorded as of 3pm yesterday by the Selangor Fire and Rescue Department since floods ravaged areas within the Klang Valley over the weekend.
At the Taman Sri Muda flood command point here, Selangor Fire and Rescue Department director Norazam Khamis said the latest victim was found early yesterday.
"The body (of a woman in her forties) was found in the living room," he said.
The victim is an Indonesian who was found alone at home.
Two more bodies were found in Sepang, he added.
Fire and Rescue Department director (operations and rescue division) Datuk Nor Hisham Mohammad, when met at the same command point, said that rescue teams were forced to make return trips with specialised equipment for several victims after assessing the situation.
"We have to mark those houses and come back with the required equipment to cut the grilles," he said.
Rescuers also faced difficulty evacuating some victims during the start of the floods.
Nor Hisham said that several victims had opted to stay home, believing that the floods would soon subside.
He added that of the seven reported dead in the state, four were from the Taman Sri Muda area alone.
National Disaster Management Agency director-general Datuk Dr Aminuddin Hassim, during a press conference here, said that volunteers are welcomed to assist but they are urged to register with the authorities before doing so.
"We ask all who want to help to register so that efforts can be more coordinated and so their safety can be assured.
"This is important. We want to save people but we also have to ensure our own safety while doing so," he said.
Earlier in the day, Housing and Local Government Minister Datuk Seri Reezal Merican Naina Merican spoke to firefighters and victims.
When asked on the current level of readiness, he said 41 boats have been stationed at the Taman Sri Muda area.
More boats are also provided by volunteers and NGOs.
"From my side, I'm getting help from places that have not been affected by the floods to assist.
"The early alert system must be shared.
"If information is received by one department, it must then be passed on to other agencies responsible for dealing with these types of disasters," he said.
On the possibility of a second round of floods, he said the department is in a state of readiness.
Observations by The Star yesterday found that roads heading towards Taman Sri Muda were still heavily flooded.
Many cars and trucks heading towards the command point were told to use other routes due to the high water at certain areas.
Water at certain areas heading to Taman Sri Muda was still at least waist-high.
Many flood victims could be seen collecting essentials and being sent to nearby evacuation centres.
A volunteer who wishes to remain anonymous said that he arrived yesterday to help in rescue efforts.
"I even bought a new boat just to help out.
"The situation here is very bad," he said briefly before heading back towards the flooded area.
source: the star