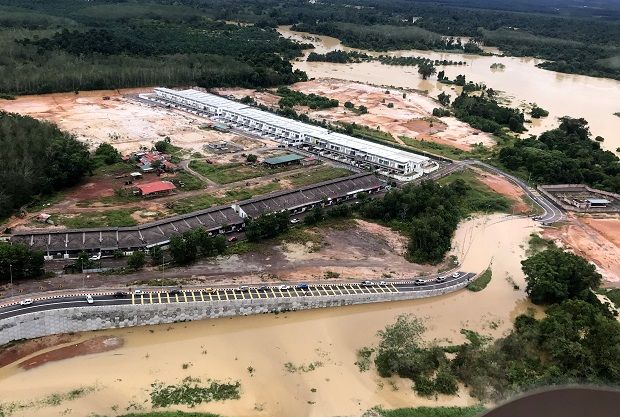 JOHOR BARU: The number of flood victims in the seven districts in Johor affected by flood seeking shelter at the temporary relief centres (PPS) is increasing.
State Health and Environment committee chairman R. Vidyananthan said there are 5,598 people from 1,156 families as at noon on Tuesday (Jan 4) compared with 5,479 people from 1,486 families as of 8am on Tuesday (Jan 4).
"Another PPS opened today, bringing the total number of centres to 79 from 78 earlier,'' he said in a statement.
Vidyananthan said the majority of the flood evacuees are in Segamat with 4,103 people from 1,114 families at 53 PPS in the district.
He said Mersing has 541 people from 142 families at seven PPS, Kota Tinggi with 210 victims from 61 families at three PPS and Tangkak with 467 people from 119 families at nine PPS.
Vidyananthan said 107 people from 31 families are at three PPS in Batu Pahat, while Kluang has 112 people from 34 families at one PPS, and Muar with 58 victims from 15 families at three PPS.
"The Sekolan Agama Bukit Banjar in Tangkak opened on Monday (Jan 3) at 12.30pm for flood victims from Kampung Seri Jaya and was closed on Tuesday at 10am,'' he said.
Vidyananthan also cited Malaysian Meteorological Department (MetDept) warnings on continuous heavy rain in Johor that are expected to occur on Tuesday (Jan 4).
"Four rivers in Segamat and one in Tangkak are still at dangerous levels," he said.
The rivers in Segamat are Sungai Muar in Kampung Awat at 21.58m, Sungai Muar in Buluh Kasap at 11.13m, Sungai Segamat in Segamat town and 9.91m and Sungai Lenik, Ladang Chaah at 6.69m.
Sungai Kesang in Kampung Seri Maamor, Tangkak is at 4.26m.
Vidyananthan said 10 roads in Segamat remained closed – they are Jalan Kuala Paya Balai Badang, Jalan Putting, Jalan Jabi Kampung Bukit Tempurong, Jalan Tumang, Jalan Serakek, Jalan Tungku Tiga, Jalan Pogoh Kampung Limau Manis, Jalan Felda Medoi Surau Kampung Logah, Jalan Senai-Gemas (opposite Ajiya Glass factory) and Jalan Felda Medoi at the Jalan Maharani intersection.
"Jalan Tanah Abang, also in Segamat, at the first corner of the stretch is only accessible to heavy vehicles while only light vehicles are allowed to pass through Jalan Lingkaran Kahang Barat in Kluang as there is a landslide in the area,'' he said.
source: the star