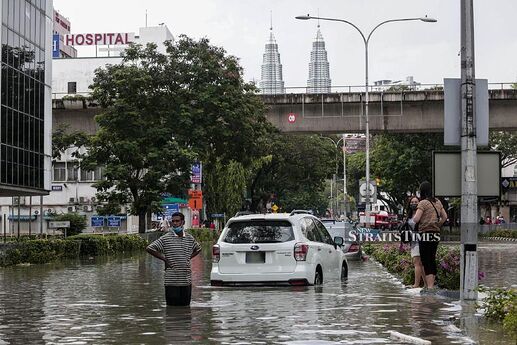 KUALA LUMPUR: Waters from the flash floods which struck parts of the federal capital today at 3.30pm following a heavy downpour have begun to recede.
Kuala Lumpur Fire and Rescue Department Operations Centre said they received an emergency call on the flash floods at 3.51pm today.
The emergency call saw the department deploy its personnel and machinery to the affected locations.
"Among the areas affected by floodwaters was Jalan Segambut Dalam in Kampung Masjid, Jalan Sentul Pasar Dalam, Jalan Maarof in Bangsar, Lembah Pantai (Sprint Highway), Jalan Kuching, PSN Beruas in Bukit Damansara, Jalan Kasipillay, and Jalan Parlimen.
"Our teams, manned by 42 officers from seven stations, including six Fire Rescue Tenders (FRT) and one Light Fire Rescue Tender (LFRT) were deployed to these areas immediately," said the department in a statement.
The centre said the first location saw personnel from the Gombak Selatan station help a driver whose car was submerged by floodwaters.
"There was a female adult victim stuck in the car when personnel arrived. She has been successfully rescued and taken to a safer place.
"There were no other victims in other affected areas but only vehicles that were stuck in the area because of rising water on the road.
"Thirty minutes after the operation teams' arrival at the affected scenes, floodwater had begun to recede and light vehicles could resume their journey again," said the statement.
It was reported earlier that the heavy rainfall flooded major roads in the capital city, including Jalan Segambut, Jalan Kuching, Jalan Pudu, and Jalan Tuanku Abdul Halim.
Kuala Lumpur City Hall's Integrated Transport Information System was reported to have updated the public around 3.41pm that the city centre was experiencing heavy rainfall and floods in certain locations via Twitter updates.
Source: New Straits Times