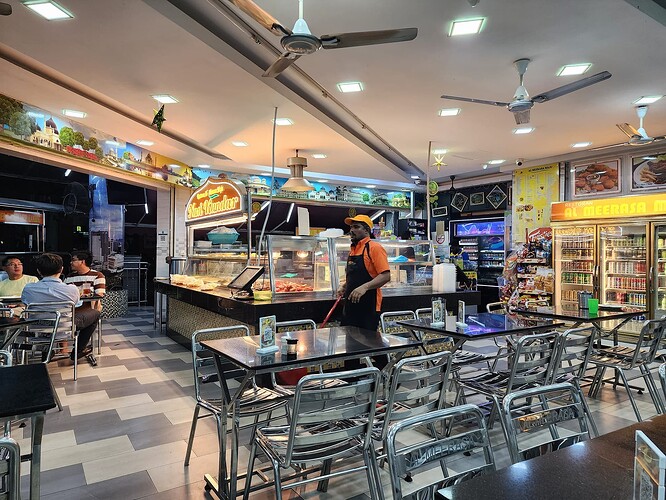 Image Source :
Facebook Restoran Al-Meerasa
Location:
28, Jalan Puteri 1/2, Bandar Puteri, 47100 Puchong, Selangor
Operating Hours:
Monday - Sunday : Always Open
Introduction :
Restoran Al-Meerasa is a hidden gem nestled in the heart of Puchong, Malaysia. With its warm and inviting ambiance, this restaurant offers a unique dining experience that combines traditional Malaysian flavors with a touch of Middle Eastern influence. Whether you're craving authentic biryani, flavorful curries, or mouthwatering kebabs, Restoran Al-Meerasa has a diverse menu that caters to every palate. Their commitment to using fresh ingredients and expert culinary techniques ensures that each dish is prepared to perfection. With friendly staff and prompt service, Restoran Al-Meerasa provides a welcoming and memorable dining experience for locals and visitors alike. Don't miss the opportunity to savor the rich flavors and aromatic spices at this charming restaurant.
Location and Accessibility :
Restoran Al-Meerasa is conveniently located at 27G, Jalan Puteri 1/4 in Puchong, Selangor, Malaysia. Situated in a bustling area, it is easily accessible and well-connected. Whether you're traveling by car or public transportation, reaching the restaurant is a breeze. For those driving, ample parking spaces are available nearby, ensuring a hassle-free experience. Public transportation options such as buses and taxis also operate in the vicinity, making it convenient for customers to reach the restaurant without any difficulty.
Operating Hours :
Restoran Al-Meerasa is a restaurant that caters to its customers' needs by being open seven days a week. With the aim of providing convenience and flexibility, Restoran Al-Meerasa ensures that their doors are always open to welcome diners. Whether you're craving a delicious meal for breakfast, lunch, dinner, or even a late-night snack, you can count on Restoran Al-Meerasa to be there to satisfy your appetite. Their commitment to staying open every day allows customers to indulge in their flavorful dishes at any time, making it a go-to dining spot for those seeking a satisfying meal, no matter the day of the week.
What to expect :
Customers can expect a delightful dining experience at Restoran Al-Meerasa. With their commitment to always being open, customers can rely on the restaurant to satisfy their cravings whenever they visit. The menu offers a wide variety of delectable dishes, prepared with quality ingredients and flavors that cater to different tastes and preferences. The friendly and attentive staff provide excellent service, ensuring a pleasant and comfortable dining ambience.
Conclusion :
In conclusion, Restoran Al-Meerasa is a popular dining destination in Puchong, Malaysia. With its convenient location, accessible to both locals and visitors, and its commitment to being always open, it provides a welcoming and satisfying experience for customers. The restaurant offers a diverse menu of delicious dishes, prepared with quality ingredients, and served by friendly staff.