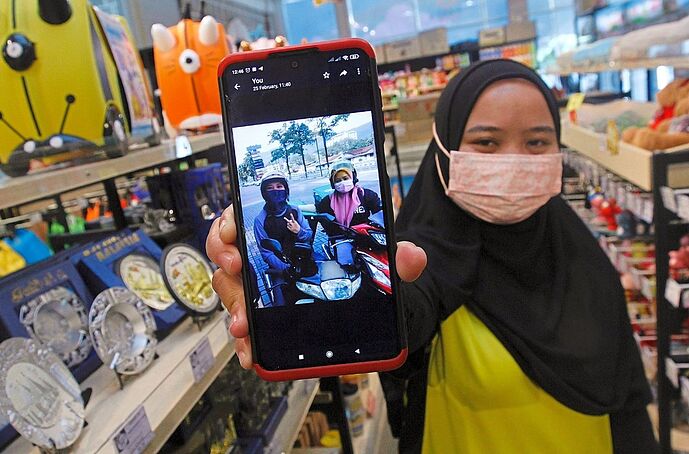 GEORGE TOWN: Having become delivery riders after losing their jobs during the pandemic, many are now switching back to their old jobs after more sectors reopen under the National Recovery Plan.
Souvenir shop supervisor Nur Hazwani Johari, 25, said although the food delivery gig paid more than her job, she is happy to be back at work at the souvenir outlet.
"I started work at the souvenir shop for a couple of months, and then the movement control order was implemented, and the outlet was closed.
"A friend then recommended I register with a company and deliver food, which I did, and it paid me enough to make it through the pandemic.
"However, the job on the road was harsh and risky – I was doing about 20 deliveries daily, and my parents also voiced their concern.
"After the souvenir shop reopened, I returned to work here on Oct 1.
"Despite being paid slightly lower, my shift runs from noon to 9pm, and I get a fixed salary every month," she said.
Former theme park employee Muhamad Mirza Abdul Latef, 25, who also lost his job and later joined a food delivery service, is now looking for a new job.
"The pandemic came suddenly and I lost my job when the theme park was closed.
"I joined a food delivery company to survive and earned about RM2,000 monthly by working from 8.30am to 8pm daily. Risks were high from being constantly on the road and delivering food to houses of Covid-19 patients under quarantine.
"Now that many sectors are open, I'm hoping to find a permanent job," he said.
Meanwhile, a former beach boy (those who offer a variety of services to tourists such as beach chair rentals), who wished to be known only as Jeff, said he worked for 11 years along the beach in Batu Ferringhi before becoming a delivery rider.
"Since the tourism sector has reopened, I've received requests to return to my previous job, and I am considering it.
"With a wife and three children to support, I have to evaluate the job for one that is safer and more stable," he said.
Persatuan Penghantar P-Hailing Malaysia vice-president, Haris Fadilah said as more sectors have recently reopened, an estimated 20% of delivery riders had returned to their previous jobs.
"There are now fewer riders on the road, and the re-opening of dining-in at restaurants and eateries has also led to fewer take-away orders.
"For the time being, we have not seen riders being that badly affected by the resumption of dining in," he said, adding that he believes the food delivery business will continue to thrive.
"With more companies joining the competition, this will provide better benefits for delivery riders," he said.
Haris added that riders need to be aware that they are eligible to be covered under the Social Security Organisation when they join registered food delivery partners.
"This helps to protect them from dangers and losses on the road," he said.
source: the star