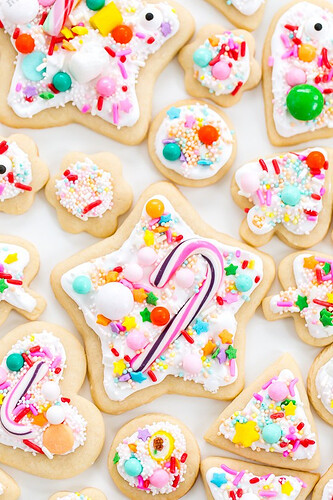 Image credit :
sugarandcloth
INGREDIENTS
1 Cup of softened butter
1 Cup white sugar
3 cups of all-purpose flour (plus some addition flour for rolling the dough)
1 teaspoon vanilla extract
1 teaspoon almond extract
1 room temperature egg
2 teaspoons baking powder
Royal Icing (4 cups):
4 Cups powdered sugar
3 Tablespoons meringue powder
1/3 Cup warm water
1/2 teaspoon almond extract
DIRECTION
Preheat oven to 350° F.

With a mixer, combine butter and sugar until creamy, then mix in the egg.

In a dry bowl, whisk baking powder and flour together, then add a little at a time to the mixer.

Lightly flour a work surface to roll the dough on, then use cookie cutters to cut out your favorite shapes. In order for the cookies to withstand the weight of your sweet everything decorations, be sure to make them extra thick! We made our about 1/2 inch thick!

Place on a baking sheet, and bake for 6-8 minutes. Let cool on the cookie sheet then transfer for them to the cooling rack once they're firm enough to move.

Let cookies cool completely before decorating. Store in an airtight container.
Royal Icing (4 cups)
In a mixer combine the meringue powder and powdered sugar on low.
Slowly add in the water and extract on medium speed for about 6 minutes. The icing should be forming small peaks and wil