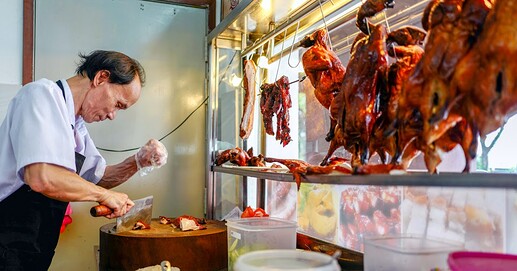 Image Source: Eat Drink KL
Location:
Restoran Tiam Hao Yun, 12, Jalan BPU1, Bandar Puchong Utama, Batu 14, Puchong, Selangor
Operating Hours:
Tuesday - Sunday
9:00am - 3:00pm
Introduction:
Welcome to Fai Koh Roast Duck in Puchong, where the art of culinary perfection meets the rich flavors of traditional roast duck. Nestled in the heart of Puchong, our restaurant is renowned for its meticulous preparation and dedication to serving the most succulent and flavorful roast duck dishes in the area.
What to Expect:
At Fai Koh Roast Duck, expect a gastronomic journey that tantalizes your taste buds with the smoky aroma and tender taste of perfectly roasted duck. Our chefs, masters in the art of roasting, use a unique blend of herbs and spices to create a dish that's not only delicious but also a testament to the rich culinary heritage. In addition to our signature roast duck, our menu boasts an array of complementary dishes that showcase the same level of culinary expertise.
Conclusion:
In conclusion, Fai Koh Roast Duck in Puchong offers a dining experience that goes beyond the ordinary. With a commitment to quality, authenticity, and flavors that linger in your memory, our restaurant ensures that every visitor leaves satisfied and craving more.