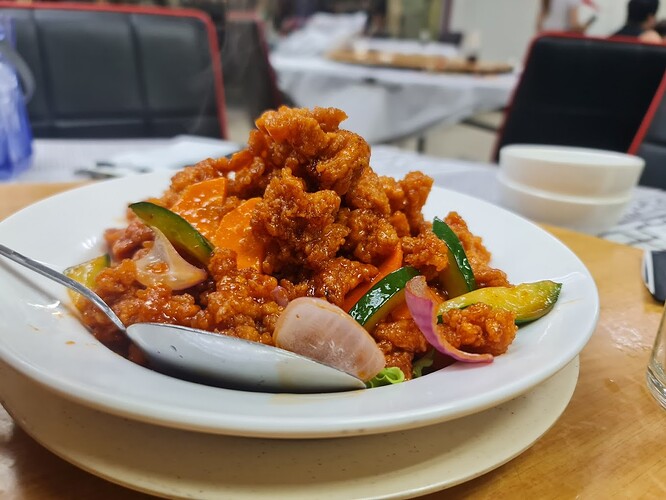 Image Source: Restoran Kari Kepala Ikan Tiga Sdn Bhd Google Reviews
Location:
1, Jalan Bpu 5, Kawasan Perniagaan Bandar Puchong Utama, 47100 Puchong, Selangor
Operating Hours:
Monday to Sunday 11:00 am - 10:30 pm
Introduction:
Nestled in the heart of the bustling city, Restoran Kari Kepala Ikan Tiga Sdn Bhd stands as a culinary gem, enticing food enthusiasts with a delightful array of mouthwatering dishes that tantalize the taste buds and leave a lasting impression. This charming eatery has earned a well-deserved reputation for its delectable sweet & sour pork, a dish that has captured the hearts of locals and visitors alike. Beyond this signature dish, the restaurant also boasts an impressive range of delectable offerings, including dragon chives veggie and their prized curry fish head.
What to expect:
The star of Restoran Kari Kepala Ikan Tiga's menu is undoubtedly their sweet & sour pork. Crispy pieces of succulent meat are perfectly coated in a tantalising sauce that strikes the perfect balance between sweet and tangy. Each bite is a harmonious dance of flavours, leaving diners craving for more. The secret to this exquisite dish lies in the chef's masterful technique and the use of high-quality ingredients, ensuring a perfect harmony of taste and texture.
Among the array of dishes offered at the restaurant, the dragon chives veggie is a standout. This unique delicacy combines the goodness of fresh vegetables with a touch of spice and a hint of fragrant garlic. The vibrant colors of the dish are matched only by its impeccable taste. The flavors are elevated by the chef's culinary finesse, making it a delightful complement to any meal.
The crowning jewel of Restoran Kari Kepala Ikan Tiga's menu is the signature curry fish head. Bursting with rich, aromatic flavours, this dish takes diners on a journey through the spices and herbs that define Malaysian cuisine. The tender fish head is simmered to perfection in a fragrant curry broth, infused with an array of traditional spices. Each spoonful is a revelation of taste and texture, making it a must-try for those seeking an authentic culinary adventure.
Conclusion:
Restoran Kari Kepala Ikan Tiga Sdn Bhd represents the epitome of Malaysian culinary excellence. With its famed sweet & sour pork, delightful dragon chives veggie, and the iconic curry fish head, the restaurant has captured the hearts of food enthusiasts from all walks of life. Each dish is crafted with care, passion, and a deep appreciation for the rich tapestry of flavours that Malaysian cuisine offers. Discover the true essence of Malaysian flavours at Restoran Kari Kepala Ikan Tiga Sdn Bhd and experience a journey that celebrates the art of fine dining.