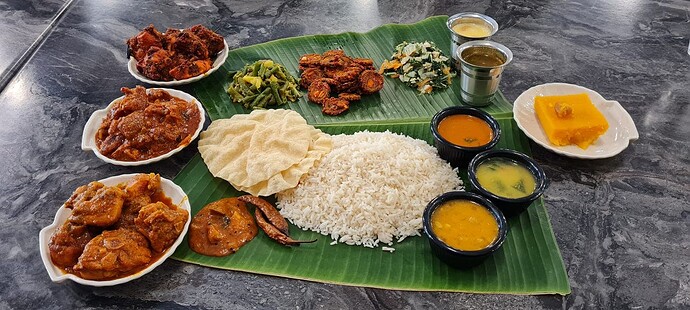 Image Sources:
Facebook Shanta's Spice Kitchen
Location:
No 91,Jalan BP 7/2, Bandar Bukit Puchong,Selangor, Puchong, Malaysia
Operating Hours:
Monday - Sunday : 8:00 AM - 11:00 PM
Introduction :
Shanta's Spice Kitchen is a renowned dining destination located in Puchong, Selangor, Malaysia. With its rich and flavorful Indian cuisine, this restaurant takes diners on a culinary journey through the vibrant spices and authentic flavors of India. Whether you are a fan of North Indian delights like butter chicken and biryani or prefer the fiery flavors of South Indian dishes like dosas and curries, Shanta's Spice Kitchen offers a diverse menu that caters to various tastes. The restaurant is known for its commitment to using high-quality ingredients and traditional cooking techniques to deliver an exceptional dining experience. From the moment you step into Shanta's Spice Kitchen, you are greeted with a warm and inviting ambience, reminiscent of the bustling street markets of India. The friendly and attentive staff are always ready to guide you through the menu, ensuring that your dining experience is both enjoyable and memorable.
Location and Accessibility :
Shanta's Spice Kitchen is conveniently located at No. 91, Jalan BP 7/2 in Bandar Bukit Puchong, Selangor, Malaysia. Situated in the vibrant neighborhood of Puchong, the restaurant enjoys a prime location that is easily accessible to both local residents and visitors. Whether you're in Puchong or the surrounding areas, reaching Shanta's Spice Kitchen is hassle-free due to its well-connected transportation links. Guests can easily access the restaurant by car, taxi, or public transportation, and there are parking facilities available nearby. The central location ensures that diners can easily find their way to Shanta's Spice Kitchen and indulge in the delightful flavors of Indian cuisine it offers.
Operating Hours :
Shanta's Spice Kitchen welcomes diners throughout the week, with operating hours from 8:00 AM to 11:00 PM, Monday to Sunday. Whether you're craving a flavorful breakfast to start your day or looking for a satisfying dinner experience, the restaurant offers a convenient timeframe to enjoy its delicious Indian cuisine. From early morning delights like masala dosa and chai tea to hearty dinner options like tandoori chicken and aromatic curries, Shanta's Spice Kitchen ensures that customers can relish their favorite Indian dishes at any time of the day.
What to expect :
Customers visiting Shanta's Spice Kitchen can expect the following:
Authentic Indian Flavors: Shanta's Spice Kitchen is known for its authentic Indian cuisine, offering a wide range of dishes that showcase the rich flavors and aromatic spices of India. Customers can expect a true taste of traditional Indian cuisine prepared with care and expertise.

Diverse Menu Options: The restaurant offers a diverse menu featuring a variety of North Indian and South Indian dishes. From flavorful curries, biryanis, and tandoori specialties to dosas, idlis, and street food favorites, there is something to satisfy every palate and preference.

Quality Ingredients and Freshness: Shanta's Spice Kitchen emphasizes the use of high-quality ingredients to ensure the best possible taste and freshness in their dishes. Customers can expect flavorful meals made with authentic spices, seasonal produce, and carefully selected ingredients.

Warm Hospitality and Friendly Service: The staff at Shanta's Spice Kitchen is known for their warm hospitality and friendly service. Customers can expect a welcoming ambience and attentive staff who are ready to assist with menu recommendations, dietary requirements, and any special requests.

Comfortable and Inviting Ambience: The restaurant offers a comfortable and inviting ambience where customers can enjoy their meals in a relaxed setting. Whether dining with friends, family, or colleagues, Shanta's Spice Kitchen provides a pleasant environment for a memorable dining experience.
Conclusion :
In conclusion, Shanta's Spice Kitchen in Puchong, Malaysia, offers an authentic and delightful Indian dining experience. With its diverse menu, featuring a wide range of flavorful dishes from both North and South Indian cuisines, the restaurant caters to various tastes and preferences. Customers can expect quality ingredients, warm hospitality, and a comfortable ambiance that sets the stage for an enjoyable dining experience. Located in a convenient area, Shanta's Spice Kitchen is easily accessible to both locals and visitors.