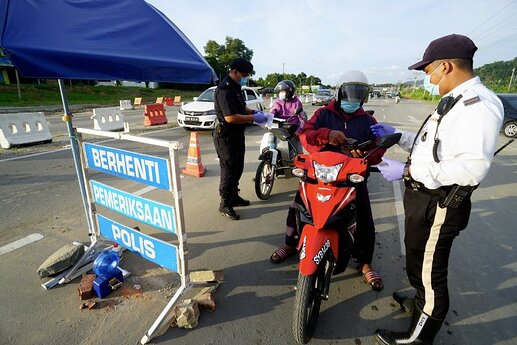 KUALA LUMPUR, Oct 21: Those required to work from office tomorrow can still use the travel approval letters issued by their companies.
An International Trade and Industry Ministry source said for the time being, the approval letter is still valid until further details have been clarified with regards to the mandatory Covid-19 swab test.
On matters pertaining to the swab test, the source said the ministry is still waiting for clarification from the National Security Council.
"There will be a list of frequently-asked questions (FAQs) issued on the swab test.
"For now, only approval letter for travel issued earlier by companies can be used for those who are required to work from the office tomorrow," the source said.
Yesterday, Senior Minister (Security Cluster) Datuk Seri Ismail Sabri Yaakob said employees living in areas categorised as Covid-19 red zones and required to be in the office, must undergo Covid-19 swab test.
The source added that the work from home directive only applied to management and supervisory level staff, while the 10 per cent quota to work from office is for monitoring and supervision purposes.
"For example, a factory might employ up to 100 management and supervisory level staff. They might need some of their staff to monitor the employees who are working, hence the 10 per cent allocation," the source said when contacted.
The source explained that those working under the essential services category and not under the management and supervisory level are still allowed to work from the office as usual.
Earlier today, Senior International Trade and Industry Minister Datuk Seri Mohamed Azmin Ali issued a statement which allowed a maximum of 10 per cent of workers in the management and supervisory capacities to work from the office for a limited time.
The workers are those doing accounts, finance, administration, legal, planning and ICT. They will be allowed to be in the office for four hours, from 10am to 2pm, three days a week.
Azmin said this is following the latest directive instructing employees in the private and public sectors, at the management and supervisory levels, in areas under the Conditional Movement Control Order (CMCO) to work from home starting tomorrow.
The directive was made following a surge in Covid-19 cases in Selangor and Sabah as the Health Ministry has detected nine Covid-19 clusters involving workplaces in Selangor.
Source: NST